Make Money in E-commerce, Amazon Side Hustle or Full-Time Job?
The 2019 epidemic has caused changes in the world, and more and more people are losing their lives and jobs. At the same time, more and more people are also beginning to try to earn money by doing part-time jobs on Amazon. Doing Amazon is a business. There are losses and gains in business. There are low seasons and peak seasons. In peak seasons, it is possible to make hundreds of thousands of dollars a month, and it may be only 10,000 to 20,000 dollars in the off-season. Once Amazon is set up, it will achieve financial results. Only is completely enough.
Amazon sellers by employment status:
37% work a full-time job (40+ hours per week)
21% exclusively sell on Amazon to earn income
18% work part-time jobs (1-39 hours per week)
5% of are retired
4% are stay-at-home parents
3% are full-time students
3% are not employed, but looking for work
We also learned that 54% of Amazon sellers own their own company/companies (beyond selling on Amazon), while another 23% do freelance or gig economy work.
For 29% of Amazon sellers, their business is a hobby.
Here are some reasons to work for Amazon:
1. Enjoy flexible hours.
Most Amazon work from home jobs offer flexible hours. Many times you can work on your own schedule, ranging from a few hours a week to full time.
2. Learn marketable skills.
Exposure to new markets and new ways of working has both pitfalls and perks. Over time, you'll learn the best way to accomplish a task or to market your product. You may even be able to turn your newly honed skills into a full-time business.
3. Leverage Amazon's massive reach.
It's hard to find a company with the reach that Amazon has. If you partner with Amazon as a seller, author, or even as an app developer, you'll enjoy a ready-made audience of potential customers.
4. Find your niche.
Because Amazon's product and service offerings are so diverse, you can build within a niche and focus on what you do best. Amazon rewards expertise and offers a way to build successfully while maintaining a narrow focus.
5. Get discounts and early access to newly released products.
Other than you selling on Amazon, you can work for Amazon as a product tester who writes reviews for Amazon products. As an Amazon product tester, you will be getting free product samples and great discounts while purchasing on Amazon.
How to Start an Amazon Side Hustle?
Choose FBA or FBM
Amazon sellers who choose the FBA model hardly need to worry about pre-sales and after-sales services. They only need to regularly process on-site emails and urge comments.
However, the FBA model provides convenience for sellers, and there are also certain risks. Once the FBA model goods are unsalable or the store is abnormal and the products are removed from the shelves, handling the goods in the FBA warehouse in the later stage is a troublesome thing, and the clearance is likely to lose money, and It is not possible to find a suitable purchaser in a short time, and the logistics cost of returning to the warehouse is too high, so many sellers also have the risk of loss and benefit in the FBA model.
The risk of choosing FBM will be lower and it is more suitable for novices. FBA is easier to sell, but the relative operational difficulty and cost will be higher. In order to maximize profits, while obtaining traffic support, do not forget to reduce costs.
Flexible deployment of products, the combination of FBA and FBM is also a good idea.
Improve the Efficiency of Product Research
According to our statistics, more than 80% of Amazon sellers believe that the biggest factor for success on Amazon is product selection. In fact, 55% of sellers who spend fewer than four hours per week spend their time looking for a product, as do 45% of sellers who spend 4-10 hours in their business.
Some time-strapped sellers will choose Amazon auxiliary tools, such as AmzChart's product research tool, AmzChart helps them work on the research regarding metrics such as Amazon sales rank, Amazon BSR fluctuates of one product under primary or subcategories in a different period, as well as changes in price and reviews.
(1) Select the Amazon marketplace first (now only the US marketplace available), input keywords or ASIN in the search bar, then set filter criteria based on your preferences below the search bar, click "search" or press the Enter key to start searching. Then you will get a long list of product results that meet your requirements.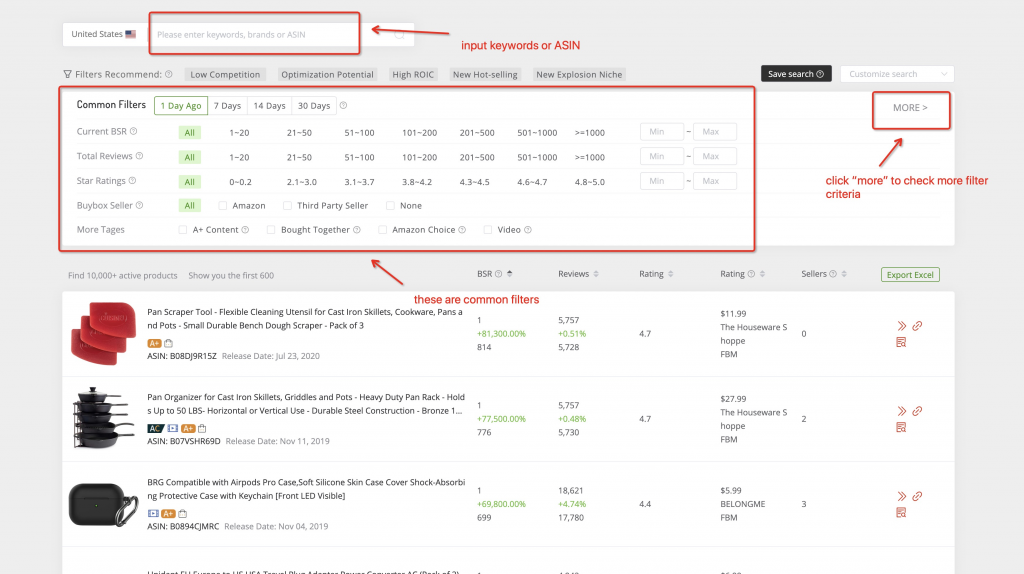 (2) For beginners, AmzChart also provides five recommendation filters. By clicking any of them, you can find some latest potential products and opportunities in just one second.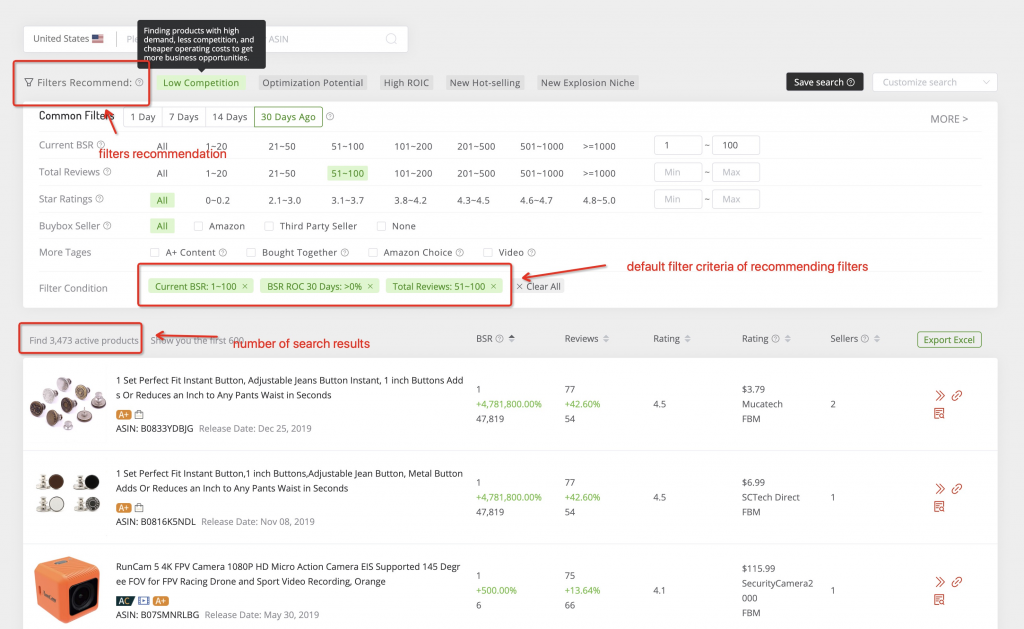 (3) After searching, you will get a long list of product results, and they can be sorted in ascending or descending order based on BSR, reviews, rating, BuyBox price, and the number of sellers. When clicking the product title or the "product details" icon, it will link to the product's details page. While clicking the "link" icon, it will link to the Amazon product details page regarding this product.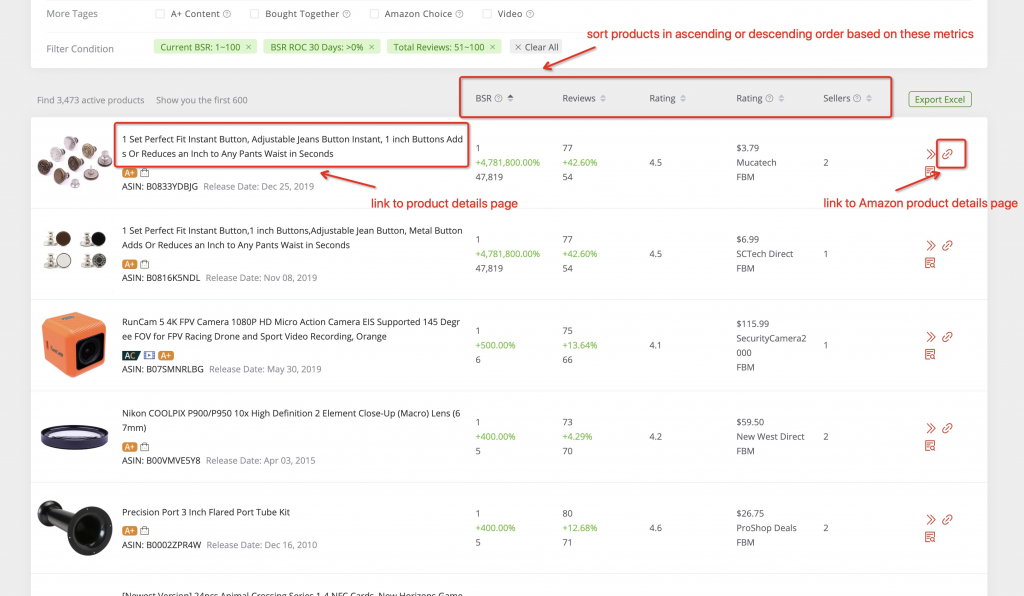 Spend at least 8 Hours a Week
If you decide to start selling on Amazon as a sideline or plan to make money, try to spend at least 8 hours a week on Amazon. On the one hand, spend time on researching products, on the other hand, do a good job of PPC advertising and research keyword traffic.
AmzChart offers keyword scout which can help you find keywords for your keyword campaigns.
If you input a keyword in the search bar, you will get a list of related keywords & long-tail keywords as well as corresponding metrics about them such as monthly search volume, monthly purchase, number of products, and CVR(purchase rate). By clicking the keyword in the list of the related keywords, you can check the historical and current search volume of this keyword.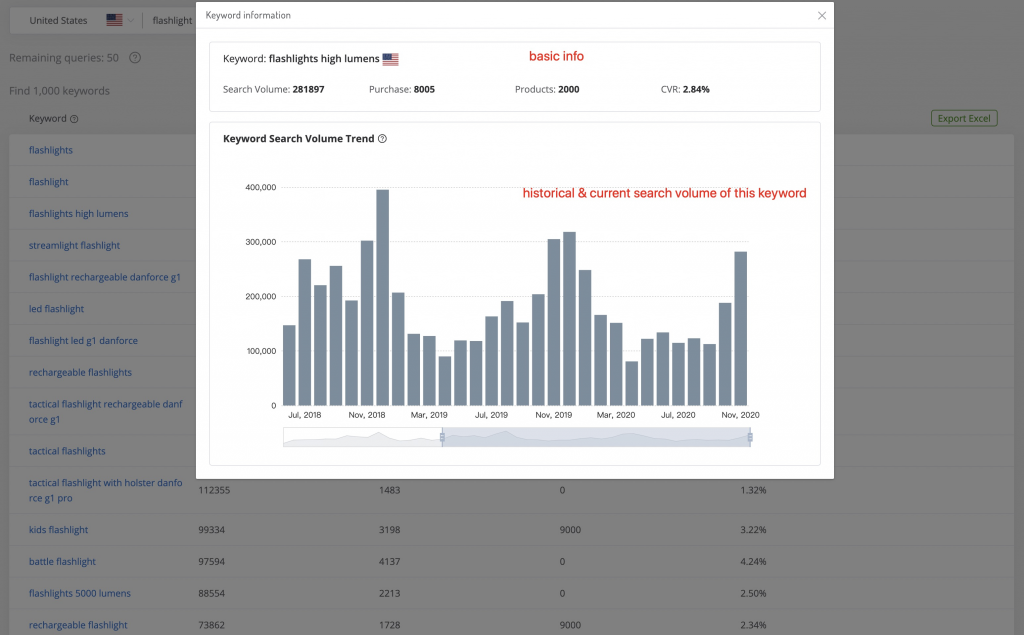 Final Words
However, if you have a job and want to work on Amazon, it is recommended not to resign rashly. If you quit your job, Amazon can't do it well. Do you still have to keep looking for a job! If you have not resigned, you still have money to get every month, at least there is a way out!
It is not easy to achieve Amazon's sales of 50,000 to 100,000 U.S. dollars, but if you have extra time and energy, you can operate a computer and make thousands of U.S. dollars. In addition, everyone must pay special attention to intellectual property rights and avoid blindly listing products without careful research. Amazon attaches great importance to this.
Finally, I wish you all success in making money in part-time Amazon.