Top 3 Best Free Amazon Seller Fees Calculator Tools [2022]
Table of content
What are Amazon fees?
One of the most essential skills in running a business is the calculation of income, expenses, and profits! Only so can you know whether you are making money or losing money. Having opened an Amazon store by yourself, you, as the store manager, have to be responsible for the profit and loss of the store, so calculating the cost and profit of each product is an important step.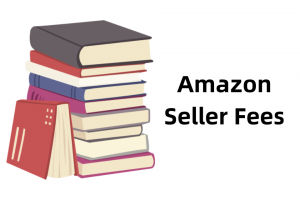 Before calculating your potential profit margin, you need to list some recurring Amazon fees first, which are:
fees of your selling plan (individual or professional)
referral fees
fulfillment fees (FBA differs from FBM)
the variable closing fee of each product (only for individual selling plans)
refund costs
shipping fees
high volume listing fees
storage costs
Then, we need to clarify how the cost-profit is calculated:
Profit = revenue - cost
Profit margin = sales profit ÷ sales revenue
But Amazon's fee structure is so complicated that many skilled sellers have a hard time calculating their net profit. Referral fees, shipping costs, fulfillment costs, and other fees can be difficult for even the most experienced accountants to understand. Gladly there are many free Amazon seller fees calculators that do the accounting for sellers, so you can have more time to focus on boosting your Amazon profit.
What can the Amazon seller fees calculator do?
1. eCommerce Profit Calculator
The eCommerce Profit Calculator is a general profit calculator tool that helps you check the profit of an item, whether it's from a competitor's store or your own.
real-time currency converter
suit for most common-use scenes
FBA and FBM calculators for Amazon
visualized profit analysis
This Amazon seller fees calculator is able to deal with currency conversion, shipping costs, warehousing fees, referral fees, marketing costs (including ad costs, promotion fees, and monthly offsite promotion fees), and others such as tax, return loss, exchange loss, and monthly miscellaneous fees.
Another big advantage of this calculator is its wide support on marketplaces, including the US, UK, Japan, India, and so on (also well-known as "Amazon profit calculator India" and "Amazon FBA calculator India").
Besides, it's also applicable for accounting for other mainstream e-commerce platforms such as Etsy, AliExpress, and Shopify. It's not only an Amazon profit calculator but also a Shopify profit calculator plus an Etsy profit calculator.
As a Chrome extension, the seller fees calculator stands out with the convenience to launch - you can almost start calculating at any time on any page, once you have installed it!
---
2. FBA Revenue Calculator
FBA Revenue Calculator is an official tool provided by Amazon to calculate shipping costs for Amazon sellers and provides real-time pricing between different shipping methods.
It doesn't support calculating fees such as marketing costs or referral fees, and nor does it provide a currency converter. The lack of dazzling terms or features makes it stay focused and concise, which suits Amazon newbie sellers quite well.
---
3. Amazon FBA Calculator

Amazon FBA Calculator, as is named, is a free tool to calculate the FBA fees for Amazon products. It's a Chrome extension published by AMZScout. It calculates the product's total cost based on FBA fees, price, shipping costs, taxes, and other promotional costs. And after that, it'll generate a report with all the profit information, including monthly net profit and profit per unit.
So far Amazon FBA Calculator supports marketplaces including the USA, Canada, UK, Europe, Australia, and more.
How to use the Amazon seller fees calculator?
You understand the use of eCommerce Profit Calculator, you understand all Amazon seller fees calculators.
Step 1: Install it from the Chrome web store
Click here to install the extension, then click the extension icon on any other page.
Step 2: Choose the platform

If you want to calculate the fees on Amazon, choose "Amazon", if not, choose "Etsy" or "Universal".
Step 3: Pre-set the conditions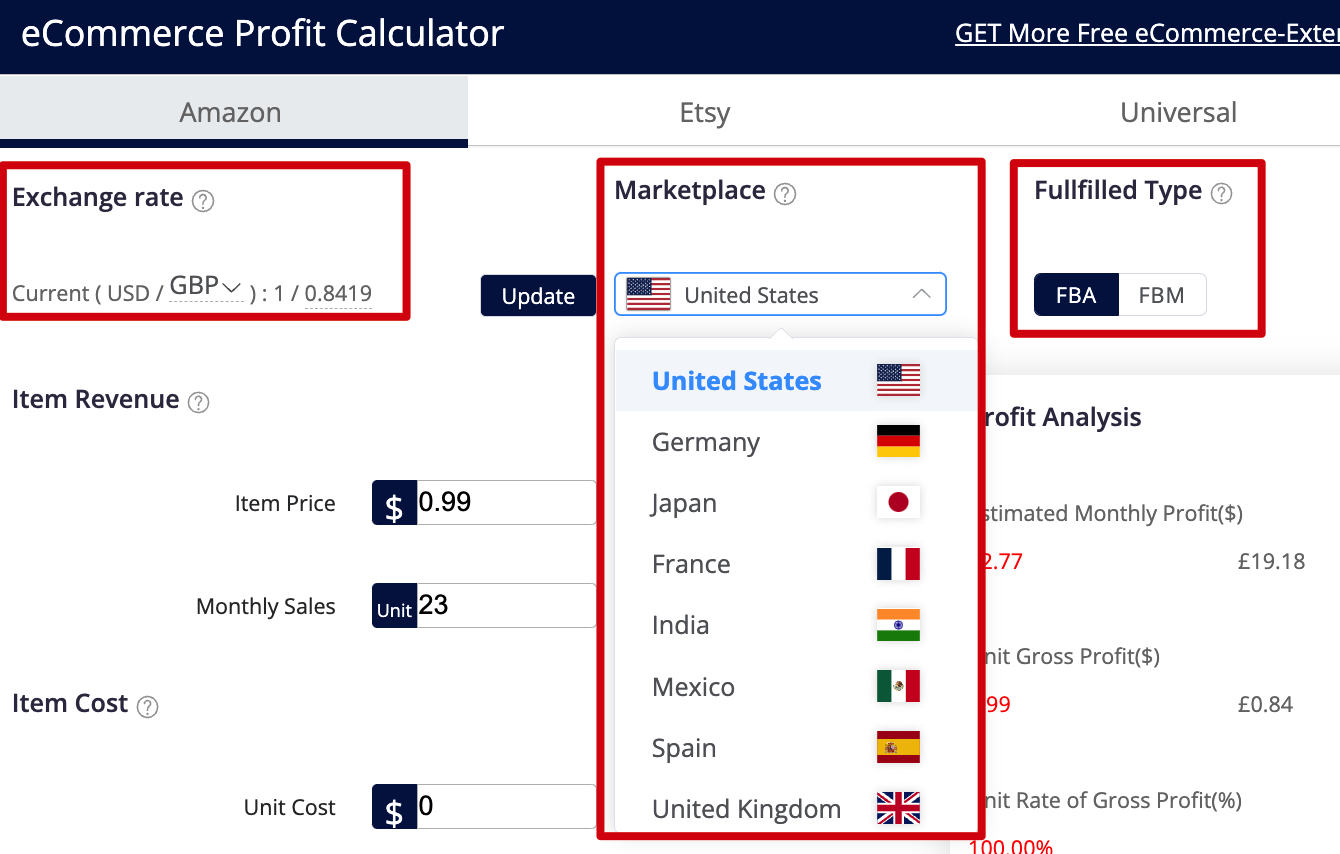 Select the currency that you use to settle accounts, the marketplace where your store is, and the fulfillment type (FBA or FBM).
Step 4: Fill in the blanks with the correct numbers
The required items are slightly different between FBA and FBM, which are:
Step 5: Read the Profit Analysis
According to your inputs, the Amazon seller fee calculator will give results in real-time, which include the estimated monthly profits, the unit gross profits, the unit rate of gross profits, ROI, Recommendations for Ads ACoS, along with a pie chart of the monthly cost proportion.
FAQ
More about Amazon seller fees calculators
---
The followings are the common questions that Amazon new sellers may come across.