How To Sell Handmade Products On Amazon?
According to Expert Marketing Research(EMR)shows, The global handmade products market achieved a value of US$ 647.5 Billion in 2021. The handmade products market is projected to witness a CAGR of 10.9% over the forecast period of 2021-206. It is expected to reach US$ 1204.7 billion by 2026. The progress of the online retail industry has also accelerated the development of all industries, and the handmade products industry has gradually emerged in recent years.
The meaning of handmade products
Handmade products are made products using simple tools that represent the culture and traditions of a country or region. Each handmade product is unique because the quality of each product is different and because each craftsman plays to his or her strengths in a different way.
The advantage of handmade products
1.Each product is unique.
2.Each product has a beautiful story at the back.
3.Direct contact with manufacturers for personalized customization.
4.For sellers, less investment at the beginning.
The target group of handmade products
Handmade products have a huge potential consumer group. the main consumption age is concentrated in 16-42 years old, 80% female nearly. Therefore, this market has huge potential.
which website can sell handmade products?
Etsy, an e-commerce platform selling handicrafts, has 50 million registered users and 17 million active buyers, with mobile accounting for 50% of sales. On Etsy, sellers can sell crafts, antiques, clothing, jewelry, art, and more. But the goods required to be sold must be original and handmade. Etsy is free to register, but it pays a listing fee for each item listed and a commission for each order produced.
Amazon is an e-commerce platform that everyone is familiar with, but many people have never heard of Amazon Handmade. Amazon Handmade is an e-commerce platform specially created by Amazon for handicraft sellers. It was launched in October 2015. Sales categories include jewelry, toys, games, jewelry, furniture, art, kitchen supplies, baby supplies, and so on. Amazon Handmade does not charge listing fees but takes a 15% commission on each transaction, which is calculated as the sum of the sale price and shipping costs.
Why choose to sell handmade products on Amazon?
1.Compare with Etsy,Amazon handmade is even more focused on handmade products than Etsy. Cause Amazon handmade has a series of strict approval processes. In addition to making sure each handmade product is truly 100% handmade. Customers always believe that they will receive unique items with personal words.
2.Building an Amazon handmade shop is simplifies the process of sell online. people do not need to launch their own online website, which can waste lots of money and time on study how to operate your website and find customers.
3.Except for the users you already have. Sellers of Amazon's handmade products also get the benefit of a regular audience. Access to the millions of Amazon customers who are already loyal to the platform without the need for a large marketing budget. You can get more clients on a limited budget
4.The best part about Amazon handmaking is that it's really risk-free. Since 2016, the company has been waiving its $39.99 monthly fee for Handmade Artisans, which it charges regular Amazon sellers. That means there's no listing fee to pay anyway -- just a 15% referral fee when you make a sale.
How can we sell handmade products on Amazon?
If you get ready to sell handcraft products on amazon, we will help you how to create an amazon account step by step.
According to the definition of handmade product on amazon, your product must be satisfied these conditions
1.products must be designed and produced by you or a small group of your family members/employees (preferably no more than 20 people)
2.Accept prefabricated goods that have been manually modified; For example, you apply your design to things like drinking utensils and tea towels.
3.Allowing renovations or operations to increase the value of second-hand goods; For example, paint or decorate a table.
4.Permit re-use, or use of the Goods or their components/parts for new or other Goods; For example, make bowls out of old vinyl records or pillowcases out of old rugs.
Which products should I sell on Amazon handmade?
When you click on the Amazon handmade page, you will find that the Best Seller badge will appear in this section similar to other pages. Through the BSR list, we can understand what category sell best on the market at present, there is also a measure of whether the product sales best-selling one way is that we can check the number of comments, generally speaking, when we see high comment products, product sales can be judged by the basic have a long history and commodity rate is very high, This product has been in the market to maintain a high degree of activity.
If you wanna find more detail, you also can through Amzchart to find out information what you want.
Click PRODUCT on the navigation toolbar at the right of the main page, then enter keywords or ASIN numbers to research.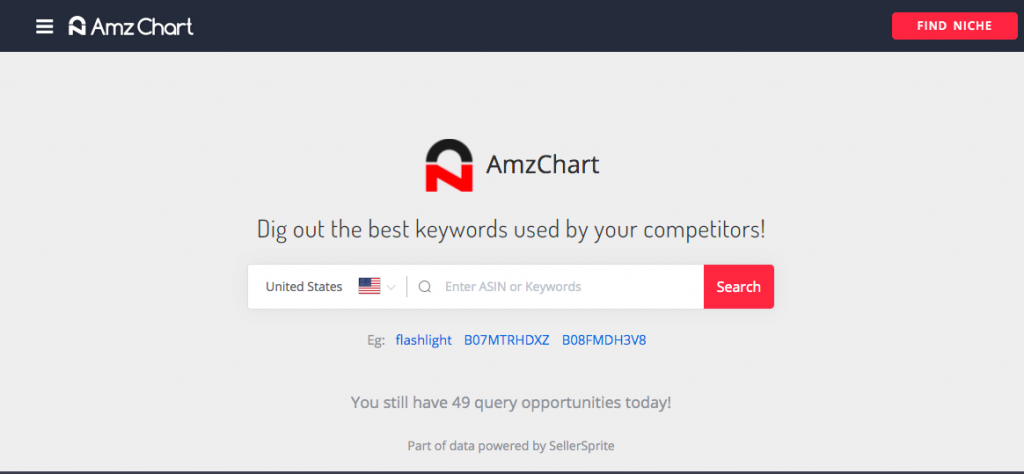 Take a leather crossbody bag as an example. when you research "handmade crossbody bag" you will get full product information, like total reviews、positive/negative rate、the number of Q&A、the ship model, etc. If you want to understand more about it, click here: Guide to Finding Winning Products with AmzChart.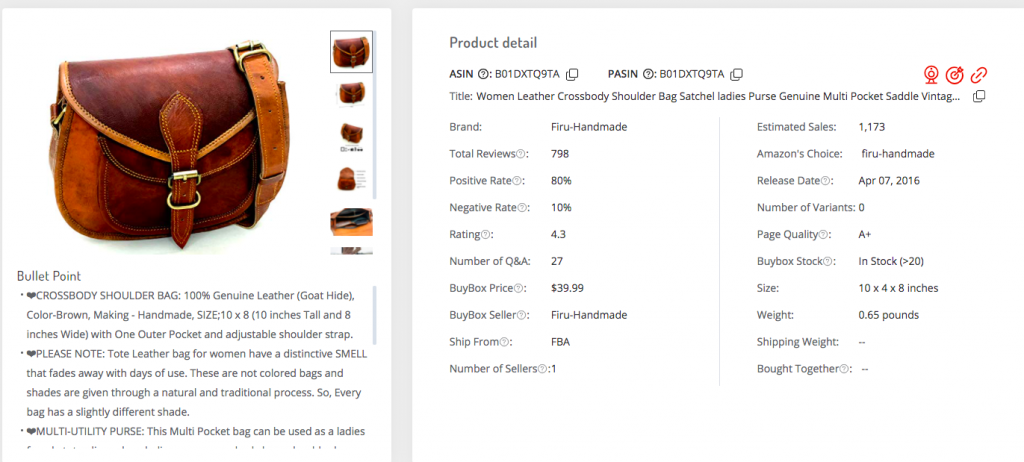 Shipping way
FBM, Fulfillment by Merchant
Pros of FBM
1.low risk of unsalable goods, because there is no need to store products in advance.
2.There is no need to rent a storage base, the initial investment is low.
3.After the operation is skilled, a person can take care of a number of stores, auxiliary income.
Cons of FBM
1.Lower exposure, since it is not shipped through Amazon, Amazon will not give it weight, and the corresponding exposure and traffic will be reduced.
2.No professional customer service, Amazon customer service does not solve customer service problems for spontaneous sellers
3.The conversion rate is low, the transportation cycle is very long, so it will also affect the conversion rate of customers
FBA, Fulfillment by Amazon
Pros of FBA
1.Faster logistics efficiency.
2.Higher search ranking in two days.
3.Easier access to traffic.
4.The improved conversion rate of goods. Because FBA returns goods quickly, you can get a shopping cart.
Cons of FBA
1.Need to purchase products in advance and send them to Amazon's warehouse.
2.Need to stockpile a lot of goods to ensure adequate inventory.
3.If the products can not be sold out of the circulation of funds, but also need to pay a high storage fee.
For Amazon handmade products, FBA is the best choice,which can help sellers solve a lot of trouble, and the support of Stream will also quickly help sellers solve the problem of no customers at the early stage.
Alright! If you still have any problem with Amazon handmade, welcome to contact us anytime!