How to Find Products to Sell on Amazon in 2021 – AmzChart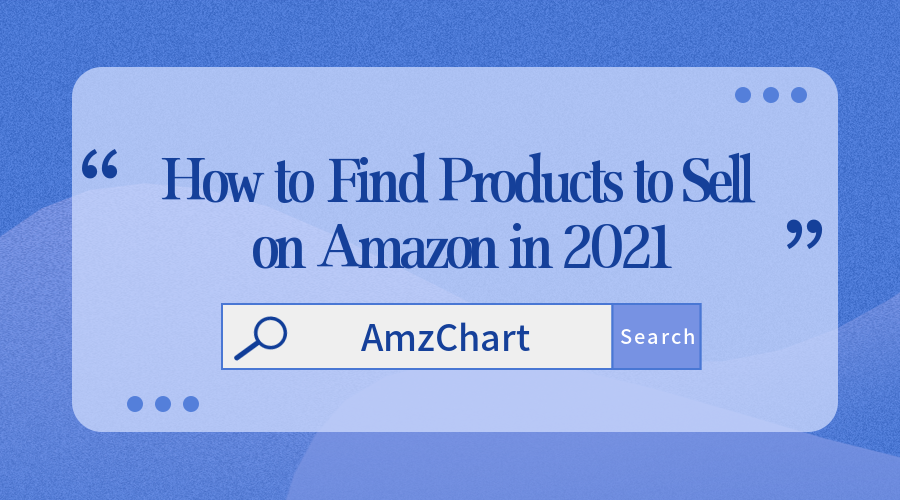 The markets covered by the Amazon platform are basically the most core mainstream markets in the world at present, such as the United States, Canada, Germany, the United Kingdom, France, Italy, Spain, and Japan, where Amazon is the largest local online shopping platform. As a cross-border export seller, if you want to get your products sold in these countries, opening a shop on the Amazon platform is the best choice. There is a popular saying among those who have done Amazon: "Seven points of selection, three points of operation." Let's learn how to find products to sell on Amazon in 2021.
How to Find Products to Sell on Amazon in 2021?
1. What characteristics does a good product need to have?
Already present on the front of Amazon.
Low shipping costs.
Reasonable selling price range.
Reasonable profit margin.
High heat and low competition.
No brand monopoly or volume monopoly.
In an upward life cycle.
Simple functionality and easy clearance.
2. How do I find products that I can sell on Amazon?
Google Trends
Google Trend is a Google product based on the analysis of search days. It analyses billions of Google search results worldwide and tells users how often a search term has been searched for in Google over time and the relevant statistics. In simple terms, we can use Google Trends to see what people are interested in on the web.
Through the user's search data, we can read these selection ideas:
The greater the platform, trend, availability and search results, the greater the demand in the market;
If the search volume soars, it means that the market demand is very urgent, as long as your hands and feet are fast enough, you can still rub a wave of traffic;
Found never seen products, in addition to attention to shelves, sales time, but also through Google trends to determine whether it is a new product or improved products;
Their own preference for the product and whether the product itself is suitable for Amazon FBA.
Check out the potential categories on Amazon
For the Amazon platform, most categories such as books, 3C products and other standard product categories are relatively clear, select products on the shelves will often be limited to but one category, and clothing and other non-standard products although there are also perfect classification standards, but there will always be some products because of its style characteristics, resulting in a more ambiguous classification, or fit multiple categories at the same time. If you do not do a proper category competition analysis before the new shelves, it is easy to get into the more difficult single cold category.
Therefore we need to distinguish among four categories: red sea; blue sea; monopoly categories and low traffic categories.
In Competitive Analysis, You can see the top 100 listings in the category, the competition, the opportunity index of new products, the trend of the number of reviews, so you can determine whether the category is monopolized by the top brands or a blue ocean market.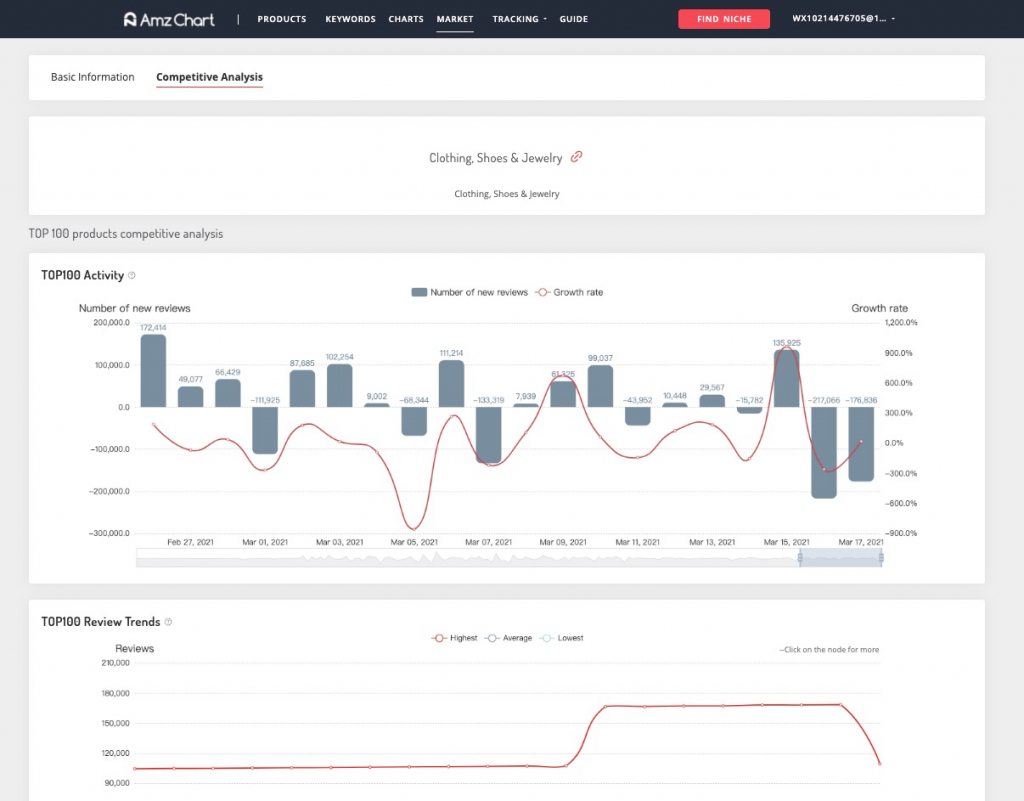 Keyword Analysis
We can use the keywords in AmzChart to explore potential new products. Take shoe as an example, we sort by search popularity in descending order to see the products with high search popularity and low number of products, so that we can research the products one by one to see if they are in high demand and low competition.
Find a niche market with potential
Here, unlike the potential category mentioned in the second point, we can find inspiration for our selection from good independent shops. Here we can use the FindNiche tool to analyse shopify's product data to find niche products.
Amazon BSR
Amazon is the sales data is not transparent, but its public BSR ranking and sales performance is directly proportional, so we can use the BSR ranking to select products, we can filter the BSR ranking in a period of sustof goods, analyze the reason for its rise is season related, or holiday related, or to usher in the explosion of potential explosive products, combined with the number of reviews and shelf time, the search results obtained will be more reliable.
Amazon Charts
In the newly launched chart function, you can have the opportunity to find the potential explosive products you are looking forward to in the New Release and Movers & Shakers. The current list supports one level of category filtering, so you can try to find the answers to the products in it.
In this issue we have covered the multiple dimensions to go about Amazon selection. We don't know if it inspires your thinking, but it is certain that using the right tool like AmzChart will greatly reduce your decision making time as well as decision costs in a huge database, and it is now free, so give it a try.