How to Qualify for Selling Toys on Amazon?
Amazon offers a variety of opportunities for sellers to make money through resell items on Amazon. And there's a common acknowledgment that the toy market on Amazon is still profitable. That's true. Especially for each Q4, most Amazon sellers are struggling to get approval to sell toys on Amazon in advance, it's the holiday season, and also the peak season for sales. There's no wonder every seller wants to seize the chance to generate more sales.
And since August every year, all Amazon registered sellers have received an email from Amazon that informing each of them of the fact that whether they satisfy the criteria to sell in "Toys & Games" on Amazon during this Q4 or not. Unsurprisingly, "Toys & Games" is one of the best-selling and most profitable categories during the holidays. Therefore, if sellers do not follow the rules, they may lose massive sales.
Have you received the latest requirements for selling toys on Amazon this year?
Amazon 2020 Holiday Selling Season Requirements in 'Toys & Games'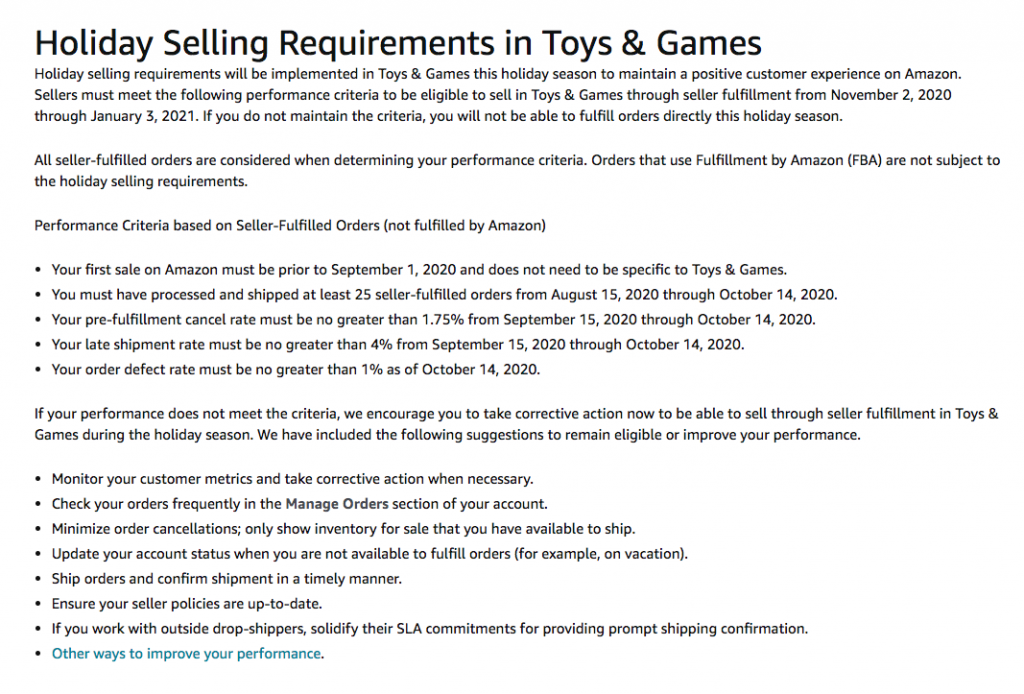 The selling requirements in "Toys & Games" can also be found on Amazon Seller Central.
Holiday selling requirements will be implemented in Toys & Games this holiday season to maintain a positive customer experience on Amazon. Sellers must meet the following performance criteria to be eligible to sell in Toys & Games through seller fulfillment from November 2, 2020 through January 3, 2021. If you do not maintain the criteria, you will not be able to fulfill orders directly this holiday season.
And the first two criteria are the most important:
Your first sale on Amazon must be prior to September 1, 2020 and does not need to be specific to Toys & Games.
You must have processed and shipped at least 25 seller-fulfilled orders from August 15, 2020 through October 14, 2020.
These two criteria should be easily met. Basically, if you are a new seller, regardless of the category, you must sell before September 1. Moreover, you must ship at least 25 orders fulfilled by the merchant (FBM) between August 15th and October 14th.
The last three criteria that Amazon requires are:
Your pre-fulfillment cancel rate must be no greater than 1.75% from September 15, 2020 through October 14, 2020.
Your late shipment rate must be no greater than 4% from September 15, 2020 through October 14, 2020.
Your order defect rate must be no greater than 1% as of October 14, 2020.
When fulfilling orders through FBM, all of these metrics are always can be satisfied, except for the percentage of cancellation before fulfillment. It is stricter than usual, so you have to pay more attention.
Notably, this requirement only applies to sellers who sell toys that meet the criteria from November 2, 2020, to January 3, 2021. Orders that use Fulfillment by Amazon (FBA) will not be subject to the holiday selling requirements. If you are an FBA seller, you don't need to worry about meeting the above requirements. If you are approved to sell goods in "Toys and Games", you can use FBA to sell any number of items.
Also, for Amazon sellers who sell on multiple marketplaces, Amazon announces eligibility to sell in Toys & Games for the holidays is determined separately for each country. If you sell in multiple countries, your performance metrics will be evaluated for each country.
Why Amazon has the "Toys & Games" Holiday Requirements?
As we all know, a major reason for Amazon's success is to establish a very high stickiness with customers, so that customers can trust and be satisfied. Loose return policy, 24/7 customer service, super-fast free shipping… These are all sought after by customers. And Amazon has been improving its services and meeting users' expectations in various ways.
Holidays have always been the busiest season for Amazon and other retail markets, so Amazon will make more efforts to maintain or even exceed user expectations.
Because during the peak sales season of the year, customers shop more than ever before. If there are any errors or delays during this period, customers will feel disappointed. So Amazon does not want to entrust order fulfillment to a large number of sellers who have never successfully sold on its platform during the busiest time of the year. Generally speaking, FBM will be much slower than FBA, and fast fulfillment is the foundation for Amazon to build its business. In this season, Amazon needs to ensure that it maintains this leading position.
Imagine if there is a large number of products delivered of questionable quality or damaged packaging (or worse, not delivered in time) to customers trying to find the perfect gift, then this will damage Amazon's reputation. After all, users will only remember that the defective product came from Amazon, not a third-party seller.
How to Qualify for Selling toys on Amazon?
To be honest, as long as you meet the requirements listed by Amazon, you can sell toys on Amazon in Q4 through FBM. And it is not very difficult to meet this requirement. The most important thing is that you need to complete 25 orders fulfilled by merchants between August 15 and October 14 this year, and the first order needs to be completed before September 1.
The following tips can help you reach the 25 orders requirement.
#1 Start retail arbitrage from nearby stores
First, start from a large retail store like Wal-Mart near your home, try to find items that can be purchased cheaply, and check the selling price on Amazon. If your purchase price is much lower than the selling price on Amazon, then explain You can resell these shops on Amazon with a certain profit. This is retail arbitrage.
Is there a thrift store near your home? Or is there a used book bookstore? You can scan through the Amazon Seller App to check their selling prices on Amazon to see if you have a chance to make a profit in this way.
To complete the goal of 25 orders, one of the key points is to find cheap items so that you can resell these items on Amazon at a lower but still profitable price. As long as the costs are balanced, you can also sell toys in the last few weeks and make some good profits from toys.
#2 Doing product research
Of course, you need to conduct product research before making a profit on Amazon through retail arbitrage. Otherwise, you may waste time and end up in vain. How to find products that are in demand and have a certain profit margin on Amazon? Usually, there are two ways.
The first is to check the performance of these products on the Amazon platform. This can be checked through the Amazon Best Sellers Rank (BSR), because BSR is related to sales, and the products that shown on the sales rank are basically Amazon popular products. We usually use Amazon BSR analysis tool AmzChart to conduct product research.
Normally, I will choose a certain category, but if you don't know what type of products you want to sell, you can decide not to choose it at first, and then select the current BSR within the range of 1000-7000, the 14-day BSR change between 10%-30%, of course you can also choose the shipping method: FBM or FBA. Then you will get a complete list of products that meet the criteria you set, and then select the potentially profitable products based on your preferences.
Here are what I get with multiple criteria, and you can add more detailed criteria to narrow the results down.
Another way of product research is to look at other retail arbitrage websites such as AliExpress which are the best-selling products. Since AliExpress supports the dropshipping model perfectly, retail arbitrage on Amazon through AliExpress is completely feasible. We usually use AliExpress dropshipping niches finder tool, FindNiche to quickly find these potential retail products.
It is similar to AmzChart in terms of use, but it is completely different from the product research targeted by AmzChart. You can use huge filtering criteria to filter out some potential retail arbitrage products. But it should be remembered that there are usually some fake and inferior products on AliExpress, which you need to avoid, otherwise you may be punished by Amazon.
#3 Pause your FBA offer and then activate FBM offer
If you are selling private label or wholesale products and have some spare stock in the warehouse, you can suspend the FBA offer and replace it with the FBM offer. If you are the only seller of the listing, this method works well. That is because your FBM offer will replace the FBA offer in the Buy Box. You can keep doing this until you get 25 orders. However, since your listing no longer offers Prime shipping, the conversion rate may decrease, so you can only do this after you are sure that your listing will return to normal after the FBA inventory is activated again.