What is Amazon Arbitrage? How to Resell Products on Amazon?
With the increasing number of sellers turning on purchasing online, more entrepreneurs are going to build online stores. As one of them, if you are looking for a quick, low-risk, and low-cost way to start an online business on Amazon, then you've probably heard the term "retail arbitrage", and you've also likely heard some stories about sellers who are generating massive profit margins through this mode. Ever wondered how they do it?
1. What is retail arbitrage?
The complex phrase is followed by a simple concept. Retail arbitrage is actually a practice of using the price difference between two or more markets to resell products, that is, the seller buys discounted goods from retailers (including online retailers) and sells ​​these discounted goods at a relatively high price(always higher than the buying price) to obtain profit.
Let's take a sweater as an example. When you enter a Wal-Mart or other stores, you find that the sweater in this store is on sale. The original price is $40, but now you can buy it for only $10. For retail arbitrage sellers, this is an opportunity. You can buy 50 sweaters at this discounted price and sell the sweaters on Amazon or other online platforms. If you sell them for $20, this will not only bring you considerable profits but also the price is still cheaper than the retail price, which means it could attract some customers.
2. What is Amazon arbitrage?
Like what we explained above, Amazon arbitrage is one type of retail arbitrage, which means you buy an item at a lower than usual price from a retailer and then sell it at a higher price for a profit on Amazon. Alternatively, other options exist like Amazon to eBay arbitrage, where a seller buys a product at a low price and sells it on eBay (or another online marketplace).
Sellers engaging in retail arbitrage for Amazon know there are certain qualities to look for in a listing to make it a profitable opportunity. Normally, we suggest the profit should be more than $3.
3. What is the difference between retail arbitrage and other business models on Amazon?
1). Wholesale
Through wholesale, you can buy large quantities of products directly from the manufacturer (or from an intermediary), thereby obtaining lower prices than retail stores. But this method is not suitable for beginners, especially if you are an Amazon FBA beginner. Since wholesale is the purchase of goods in bulk, the risk of wholesale is higher than the risk of retail arbitrage, so your industry experience is also very important. After all, the goods stored in the warehouse do not directly turn into money.
Under normal circumstances, for beginners, in the initial business, you may need 3-5 items to test the popularity of the market. When you start wholesale, you usually choose a more in-depth selection of goods. In this Amazon business model, you'll often be required to place a minimum order worth hundreds of dollars.
2). Private label
Private label refers to the practice of buying a product and then affixing its own label to the product. Many times, Amazon sellers will buy products from China, and then attach their own label and logo to the products. This is an Amazon business model and wholesale model that is becoming more and more popular today. Because the list of restricted products is getting bigger, some sellers find themselves (usually temporarily) suspended from selling those restricted brands.
Private label allows you to own your own brand, and you don't have to worry about having trouble listing prohibited products. You can almost eliminate competition because you can brand your products and create listings yourself. But at the same time, you need to spend more time on brand marketing.
The risk of private label is that you will have no sales history or historical ranking to rely on when making a purchase decision. Therefore, compared to retail arbitrage, online arbitrage, or wholesale, your research will be different and will definitely be more advanced.
3). Dropshipping
Dropshipping is a business model that allows sellers to sell products without any inventory, that is to say, when sellers dropship, they purchase products from a retailer or wholesaler and then have the order sent to the customer directly. The biggest advantage of dropshipping is you don't have to invest any stock, but compared to retail arbitrage, it still has lots of shortcomings, such as lack of quality control, high return rate, and so on. We don't really suggest experienced Amazon sellers conducting this business model on Amazon, but for beginners, if you have limited startup capital, you can have a try.
4). Ordinary retail
So, what is the difference between retail arbitrage and ordinary retail? When it comes to retail arbitrage, no suppliers or manufacturers are involved. You buy directly from retail stores or markets. This will reduce your margin profits, but it is usually easier than finding and purchasing products through suppliers.
4. Pros & Cons of Amazon arbitrage?
Pros: If you are going to start selling on Amazon, this is an inexpensive way to start, and no minimum investment into inventory needed. It has a low entry barrier and very easy to understand.
However, it also has some disadvantages, such as time-consuming(you have to drive around a lot, from store to store, and try to find and restock your inventory), unstable(the products are not always at discount).
5. How to conduct retail arbitrage on Amazon?
1). Create an Amazon seller account
Before starting your seller journey on Amazon, you should go to Amazon.com first to sign in or create your account, remember, register yourself as a seller account in this step. Then you have to decide which seller plan you are going to choose. There are two options offered: an individual plan that has no monthly fee but costs $9.99 for every item you will sell, which might work for you if you only have a few things to sell. Another is a professional plan, for which you have to pay $39.99 per month, if you have lots of items to sell, this one is better for you. You can start any of them, but my suggestion is if you don't have lots of items to sell, the individual plan is better for you.
2). Conduct product research
No matter which business model you are engaged in on Amazon, you need to conduct product research. How to perform it? One of the most effective and convenient ways is to check the Amazon sales rank (BSR) because Amazon BSR is closely related to the product's historical and current sales. Therefore, it is best to choose a product with a relatively small BSR number to find similar but low-priced products.
AmzChart, an Amazon BSR chart tool could help you find what's trending on Amazon right now, by referring to this sales rank, you won't be purchasing an item that no one would buy it. Find some good products, then write down their current prices, and then take this long list to find the products you want to sell for a profit.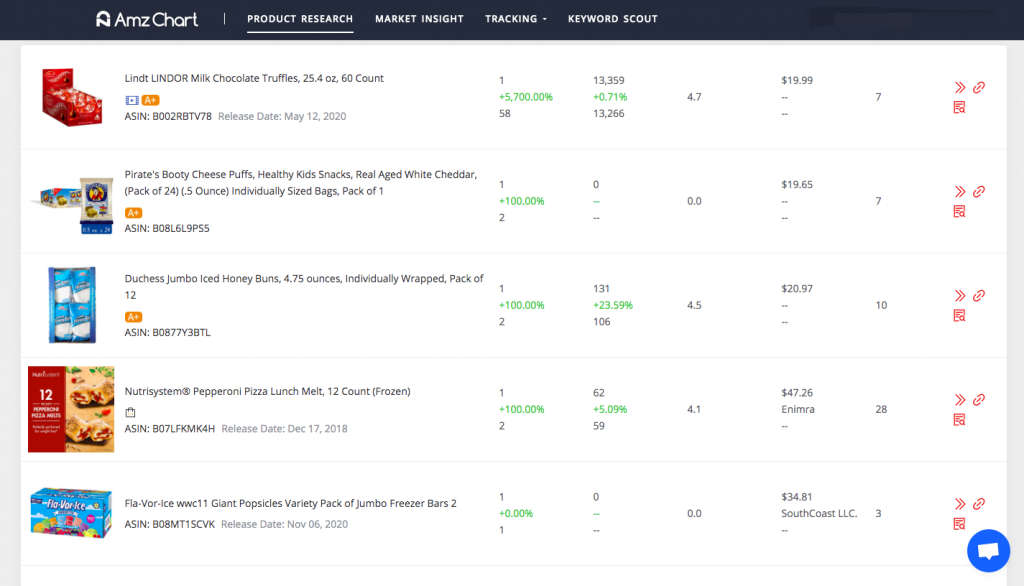 3). Sourcing products with different ways & Compare prices
a. Sourcing locally in bricks and mortar stores
When you wander around the local market looking for good products, you can start with the clearance items. Some stores have clearance aisles, and others keep the clearance items on regular aisles with unique tags. You can ask the clerk where you can find these clearance items. At the same time, you also need to check the condition of the items. If you sell defective items on Amazon, you may get negative reviews from customers.
b. Sourcing products online(online retail)
We mentioned earlier that you can do some product research through Amazon BSR. In addition to buying some discounted products in local physical stores, you can also go to some supplier platforms such as AliExpress to find some products that can be retailed (AliExpress is very popular among dropshippers and you can use it for retail arbitrage). The following are some of the products I saw when I searched the "wooden desk organizer" on AmzChart for products whose BSR is less than 2000. Their Buybox prices are around US$13.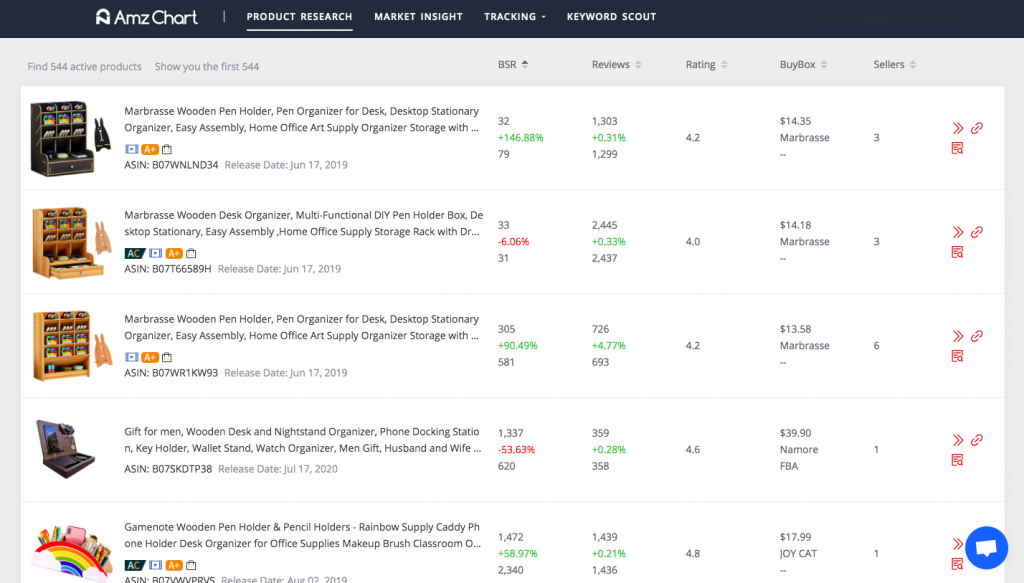 After that, I use this keyword in AliExpress dropshipping niches finder tool, FindNiche to search, and there are almost the same products on AliExpress sells for about 3 dollars, so you have a certain profit margin.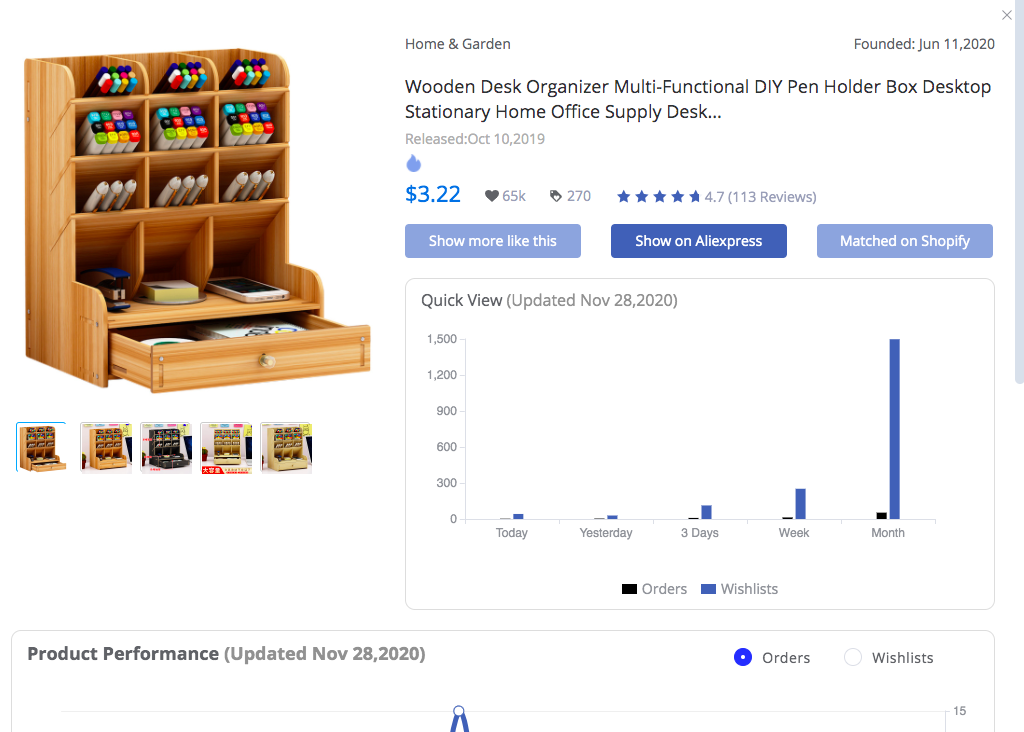 4). List your products and start selling
After finding the product you want to sell, list it on Amazon and start selling. Then you can optimize your product listings to promote your sales. And try to optimize every detail of your products and keep them to be competitive!
Final thoughts
The low entry cost makes retail arbitrage an ideal way to start your Amazon seller journey. When starting your retail arbitrage business, you should use some tools like AmzChart to analyze what's trending on Amazon and find product opportunities.