Keepa Vs AmzChart, Which One Is Right For You In 2020?
When it comes to analyzing Amazon markets, there's one thing that matters the most, conducting thorough product research. We have to discover many product ideas before launching them on our shelf. We have to check if too many similar products that have already existed in the market, whether the niche market is saturated. Before developing and launching your new product, you'll need to tap a number of sources to find all the necessary information to make informed choices.
Amazon seller tools like AmzChart and Keepa could give you some inspiration and suggestions about the product on Amazon. But which one is perfect for you? I'm going to compare and contrast these two tools and help you make a smarter decision.
What is Keepa?
Keepa is a price watcher and tracker tool that can be used in conjunction with Amazon. You can download it as a browser extension. Although it can be used with many different browsers, the most common browser used with Keepa is Google Chrome. However, if you are not familiar with analytics or marketing strategies, keeping up with Keepa may be difficult.
Whether you are a buyer looking for the best deal for a product, or an agent who wants to retrieve information about their customers or competing products, Keepa can provide you with a solution.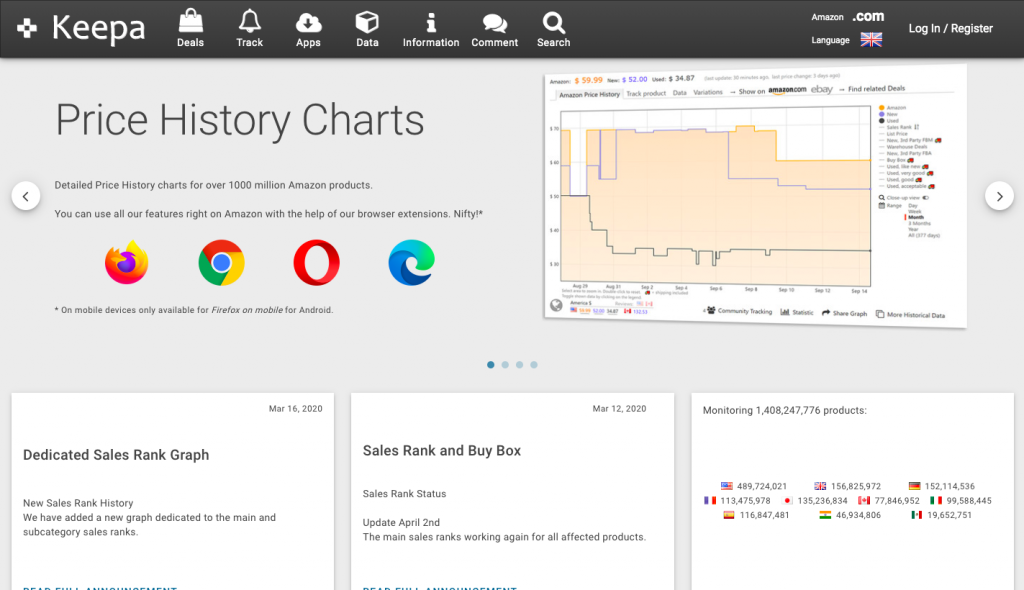 What is AmzChart?
AmzChart is a product research tool based on Amazon Best Seller Rank(BSR) analytics, it has collected more than 8,280,000 Amazon BSR products in their database, and every product coming with more detailed information regarding the changes of BSR in all categories paths they under. Meanwhile, it monitors the change of reviews, prices, ratings, Q&A quantities, and so on. Through analyzing all these details, you can then find the low competition high potential product ideas to track, to check whether there has space for you to rank.
If you are going to do Amazon product research and category research, it's the best choice for you.
AmzChart&Keepa comparison
| | | |
| --- | --- | --- |
| Features | AmzChart | Keepa |
| Price | Free to access | Free/15 € monthly |
| Extension | ❌ | ✅ |
| Amazon BSR products | ✅ | ❌ |
| Amazon marketplace | U.S. | All marketplace |
| Amazon category path | ✅ | ✅ |
| Product detail views | ✅ | ✅ |
| Competitors tracking | ✅ | ❌ |
| Update daily | ✅ | ❌ |
| Export Variation list per ASIN | ❌ | Restricted (free version) |
| Access Deals section table view | ❌ | ✅ |
| Keyword Scout | ✅ | ❌ |
As you can see, Keepa is your perfect ally when scouting new markets for your clients and finding new business opportunities. But it'll take some time, as there are loads of data options available and it will take some time to play along with them all and sort them into your business plans. But if you are going to find more potential products to sell on Amazon, AmzChart is a good choice to perform this research.
Find Potential Winning Items For Your Amazon Business