Algоріx Vs AmzChart, Which One Is Perfect For You?
When you pay attention and build your first store, searching for the right products to launch, it seems not simple. Before you start selling your first product on Amazon, it's necessary that you have to perform in-depth Amazon product research. Because for every Amazon seller, searching for the right product is just about everything which ensures whether you are going to become a successful merchant or you will fail to land enough sales to reach even a breakeven standpoint.
Amazon seller tools such as Algopix, AmzChart would do some help to your Amazon business. This article is going to compare and contrast these two tools to help you find the best one.
What is Algopix?
It provides real-time product market analysis for eBay and Amazon sellers. Actionable insights are available for 14 global marketplaces and help save time, decrease risk, and optimize sales, and you can get accurate information on whether a product is recommended to be sold on the market or not.
Data points include product identifiers, recommended market price, an expense breakdown, competition analysis, demand level, estimated profit, and total sales estimates, to help sellers make better decisions about what to buy and where to sell it.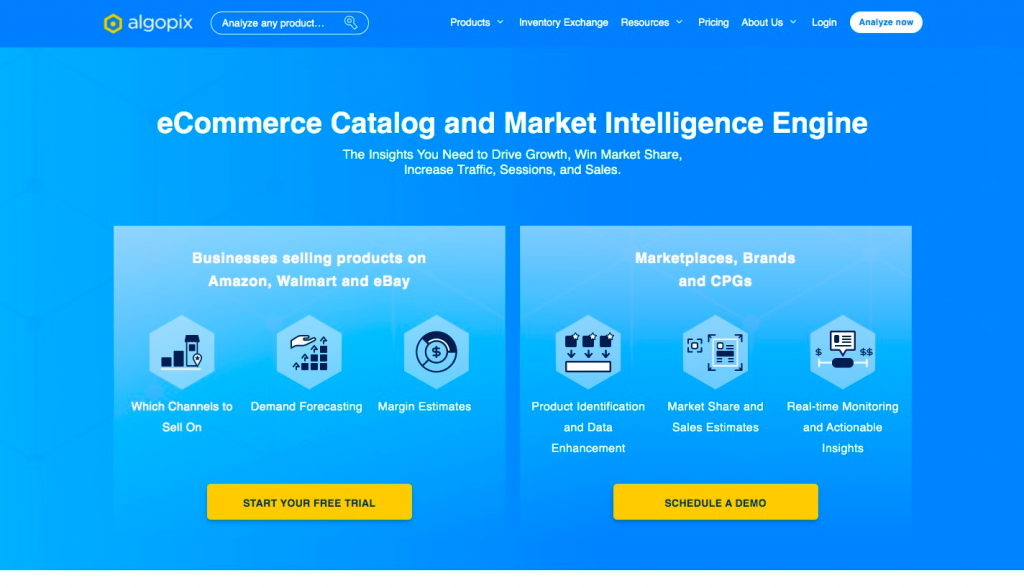 What is AmzChart?
AmzChart is the best Amazon BSR&product research tool that could help Amazon sellers find high potential low competition products. It offers up to 10 levels of Amazon big categories & niche categories analytics, also, covering the complete category path in all Amazon categories, you can't miss any of them, and more comprehensive monitoring indicators regarding total listings, total reviews, ratings, prices, to get a well understanding of niche categories.
In addition, you can track your competitors easily, and spy their marketing strategies on Amazon through AmzChart.
AmzChart&Algopix comparison
| | | |
| --- | --- | --- |
| Features | AmzChart | Algopix |
| Pricing | Free | Free/$27.99/month |
| Amazon marketplace | U.S | 17 |
| Demand forecasting | ❌ | ✅ |
| Margin Estimates | ❌ | ✅ |
| Market Share and Sales Estimates | ❌ | ✅ |
| Real-time Monitoring and Actionable Insights | ✅ | ✅ |
| Amazon BSR analytics | ✅ | ❌ |
| BSR changes monitoring | ✅ | ❌ |
| Amazon categories path | ✅ | ❌ |
| Market insight | ✅ | ❌ |
To conclude, Algopix has evolved to be an immensely valuable tool for sellers when researching specific products on multiple marketplaces and carrying out general market/industry research. The platform shows a real-time calculated overview of profit margins, shipping costs, and demand levels of a given product based on the unique identifiers or you can simply search with keywords. Additionally, the tool offers some really valuable benefits regarding inventory management, product sourcing, and competitor analysis.
AmzChart specializes in Amazon product research based on BSR data analytics, it's more intended to Amazon product research, and tell you what's trending on Amazon, which product has high potential but a low competition on Amazon, whether you have a chance to take the market share. You can get a lot of product ideas by analyzing the product's data. Meanwhile, all Amazon categories paths are provided to find the most profitable niche market for you.