How to Sell Books on Amazon in 2020?
Amazon is one of the biggest online markets that selling tens of millions of items. If you happen to want to get extra cash, Amazon is quite a great platform for you. Have you ever thought of selling books on Amazon? Just a few simple steps and you will build an amazing online business with Amazon.
If you are ready to start selling books on Amazon, what you are going to do?
Find books to sell on Amazon
You already choose the niche category, so you don't have to worry about which Amazon department you are going to dive into. You have two options if you want to sell books on Amazon: sell used books, or, sell new books.
If you are going to sell used books on Amazon, frankly speaking, it's quite a risk-free and almost no cost business. Look around your book closet, and find books that you want to resell. Textbooks, Niche books, old edition, limited edition are what you could sell on Amazon. Also, there are some places that you can find used books to sell, such as thrift stores, bulk buying sites like eBay, free books on Facebook, clearance sales in bookstores.
If you are ready to sell new books on Amazon, one of the best ways is retail arbitrage, trying retail arbitrage sites like Alibaba, AliExpress, find suppliers, and start your online business journey.
If you are curious to identify what kind of books people are looking for, there is a way to know which type of books are selling well on Amazon right now, that is to check their Best Sellers Rank(BSR) on Amazon because Amazon BSR represents the most popular products based on it's current and historical sales, typically, you can find each book's ranking on its respective page listing.
However, BSR fluctuates hourly, you are not able to check the historical BSR of one product on Amazon. The fortune is you can find the whole BSR changes of one product within different categories & sub-categories on AmzChart.
When I search "books" on AmzChart, I will get some books results which are selling well on Amazon. And these are all book ideas for you, they have high BSR, and they have high sales accordingly, which also means, lots of people are looking for them, and you can seize the chance, get some cash from this business.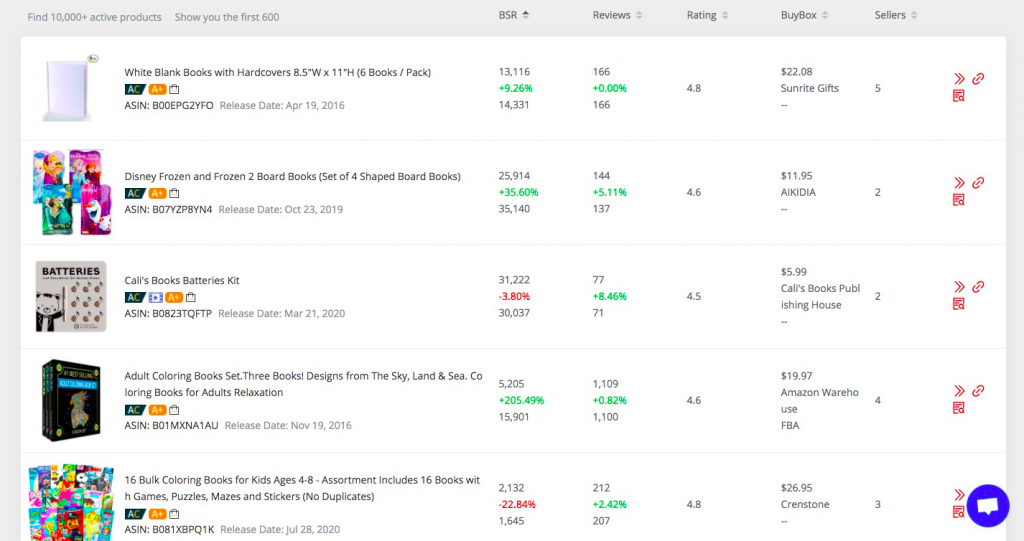 How to sell books on Amazon?
Create an Amazon seller account
Before starting your seller journey on Amazon, you should go to Amazon.com first to sign in or create your account, remember, register yourself as a seller account in this step. Then you have to decide which seller plan you are going to choose. There are two options offered: an individual plan that has no monthly fee but costs $9.99 for every item you will sell, which might work for you if you only have a few things to sell. Another is a professional plan, for which you have to pay $39.99 per month, if you have lots of items to sell, this one is better for you. The professional plan also includes advertising, sales data, and inventory-management tools for those looking to run a business selling on the platform.
Apart from the plan cost, Amazon also charges a referral fee for each item sold. Such for books, it will charge you 15 percent plus a $1.80 closing fee. So when you price your items, you have to keep that fee in your mind.
My suggestion is if you only have less than 40 books to sell, an individual plan is much better, but if you have lots of books, meanwhile, you also want to be a professional Amazon seller, a pro plan is the best choice because it also offers additional services.
Choose a fulfillment method
You also have some options when choosing a fulfillment method on Amazon.
FBA(Fulfillment by Amazon): Amazon has one of the most advanced fulfillment networks in the world. With Fulfillment by Amazon (FBA), you store your products in Amazon's fulfillment centers, and they pick, pack, ship, and provide customer service for these products. FBA could help sellers scale their business and reach more customers.
FBM(Fulfillment by Merchant): You ship from your warehouse and handle buyer communication, returns, refunds, and claims by yourself.
SFP (Seller Fulfilled Prime): List with the Prime badge, use Amazon's labels, and ship from your warehouse using an approved courier within 24 hours.
You can choose any of these fulfillment methods according to what types of books you are going to sell, if you have no idea about whether customers would show any interests in your old-fashion books, then I suggest you choose FBM, because you don't have to pay Amazon fees such as the inventory fee. But try to remember, Amazon FBM has lots of limitations and restrictions, you have to obey the policy, otherwise, you might lose your seller account as well as your money inside.
Listing your books
Since books are an unrestricted item on Amazon, used books, as well as new books, are welcomed by Amazon customers. Before selling, downloading the Amazon seller app, and it will guide you on how to list your books. Of course, you can list an item that is already on Amazon or add a new item.
The book's ISBN number, a short description that including price, shipping options, book's condition, as well as additional identifying information regarding this book have to be covered in a product listing. If someone else has already listed the same book, then Amazon will help you fill in some details. After filling in all the relevant information, your book will be displayed on the "Product Details" page. If you shop on this site, you have already seen this page.
Moke your books sale
After all launching steps are settled down, it's time to start selling. Your sales depend on whether you actively sell your books. There are lots of things to do if you want to get more sales and improve your BSR ranking, meanwhile, you have to invest much time. Such as getting positive reviews, optimizing your listings, spying on your competitors…… But if you just want to get a handful of old books off your bookshelves and onto someone else's, you are free to choose whether to invest your time.
Tips for selling book on Amazon
1.Always do product research
This is typically for sellers who are planning to sell new books or investing in used books. Taking into account the need for investment costs, sellers should be more cautious in choosing the books you want to sell. I have recommended checking Amazon BSR regarding the books above, there are some other ways that you can do book product research.
Check what books are trending on suppliers' sites such as AliExpress because many dropshippers are choosing products on this site, you will be told what's the most popular books through the sale volume, but, it costs time. Actually, you can filter out what you need through dropshipping niches finder tool, such as FindNiche, to figuring out what kind of books you are going to sell.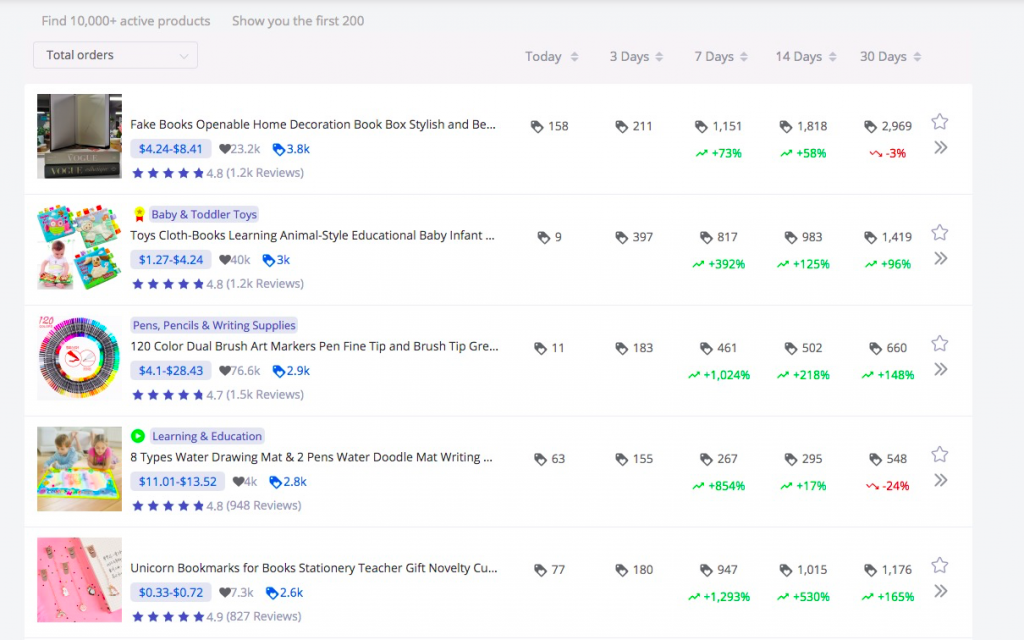 And these books are what I find on FindNiche, and I sort them by total orders. Not only find the product but suppliers as well.
Meanwhile, if you find some books are selling well on Amazon through the BSR chart, then you can search it on AliExpress, that's a smart and effective way.
2.Manage your inventory
Amazon sellers who deal with new books tend to get their inventory from several wholesalers and distributors across the globe. But you have to admit, new books are low-margin products on Amazon. Most sellers can't afford to store them, and some newbies start selling books from their own book closet. To make sure your profit margin, you have to pay attention to your inventory, especially if you are an FBA seller.
3.Customer service
As a bookseller, since you are not an author, product reviews will not be a problem for you. Amazon is more tolerant of book reviewers. According to the recent book review guidelines, book reviewers are free to accept advance copies of books in exchange for book reviews. For people who sell books on Amazon, seller feedback is closely related to the level of customer service provided by sellers. The seller is expected to respond to every email from the buyer within 24 hours and comply with Amazon's return policy.