What Does Renewed Mean on Amazon?
Selling on Amazon is very complicated. To be successful, you must keep abreast of current trends, follow up on evolving best practices, and master the various seller programs available. For Amazon sellers selling electronic devices, Amazon Renewed may be a good choice.
When you first think about selling on Amazon, all the terms can be a little overwhelming. You may have many questions, such as what does Amazon Renewed means, and our blog is designed to help you solve these problems.
This article is designed to help you become an Amazon Renewed seller. At the end of it, you will know all the knowledge required for this procedure.
What is Amazon Renewed?
Renewed refers to pre-owned, refurbished, and open-box products sold on Amazon. Amazon Renewed is the company's voucher program for the purchase of pre-owned, refurbished, and open-box products. For thrifty Amazon customers, refurbished electronic products are a great way to buy what they need with less money.
For Amazon sellers, you can sell three different types of products on Amazon Renewed:
Refurbishment: A product that may have been used is either returned by the customer due to a malfunction or it is no longer wanted.
Pre-owned: A product that may have been used, but the condition after the return is better than the refurbished product.
Open-box: A product that has been opened without the actual product.
At Amazon Renewed, you can discover and buy pre-owned, refurbished, and open-box products that have been professionally inspected and tested to work and look like new by Amazon-qualified and performance-managed suppliers.
The inspection and testing process typically includes a full diagnostic test, replacement of any defective parts, and a thorough cleaning process carried out by the supplier, or by Amazon. The products have no visible cosmetic imperfections when held 12 inches away.
With the guarantee of the policy, for customers, this means that they can trust the quality of the renewed products they buy.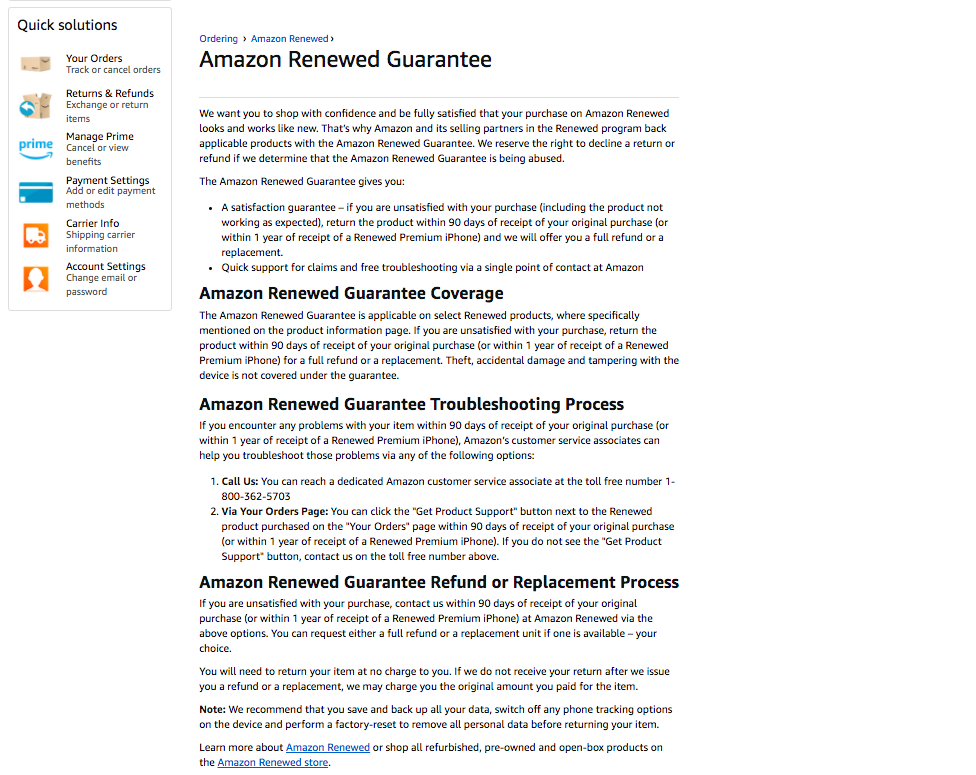 What is Amazon Renewed For?
Amazon Renewed is suitable for qualified manufacturers or third-party renovators who sell the types of products covered by the program.
The following are the types of products that can be sold under "Renewed":
Smartphones, Tablets, and other wireless devices
Home entertainment such as televisions
Gaming consoles
Personal computers
Cameras
Printers
Headphones
Home & kitchen appliances
Power tools and garden equipment
If products in one of the categories you provide are refurbished, you must have a process to inspect and test the products to ensure that they work properly and look like new products. And, applying for the Amazon Renewed program may be a good way to increase sales.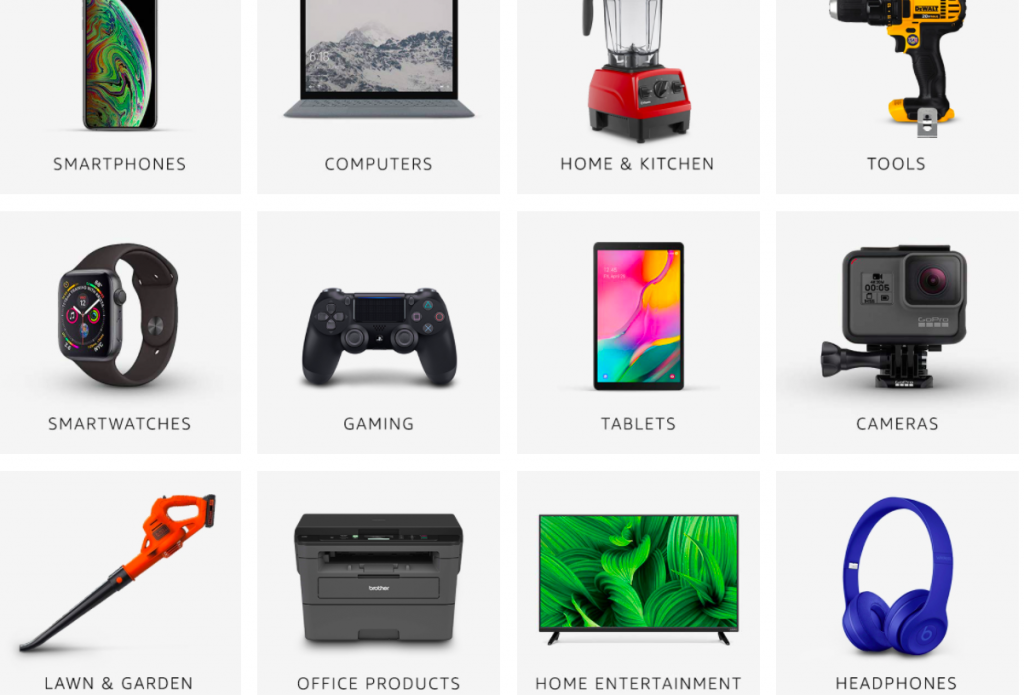 How to sell renewed products on Amazon Renewed?
#1 Make sure you are qualified for Amazon Renewed
In order to make your product eligible for the Amazon Renewed program, make sure you meet some of the main requirements.
a. Product Inspection Process
Amazon has strict quality requirements for Amazon Renewed. To prove your products match their guidelines, you need to show proof that they've undergone an extensive inspection and testing process. The inspection and testing process typically includes a full diagnostic test, replacement of any defective parts, and a thorough cleaning process carried out by the supplier, or by Amazon. And check that they have no visible imperfections that can be spotted from 12 inches away.
b. Product Warranties
In order to support the quality claims of refurbished products, Amazon Renewed also requires a reliable warranty. All products included in the plan must provide a 90-day warranty (applicable to North America), covering all defects that customers may encounter, as long as these defects are not caused by insufficient maintenance or installation errors.
This requires the submission of images of at least 8 sample units so that Amazon can view them. They need to look at the box where the product will be shipped, the inside of the package, and the product view from the top, bottom, and all sides.
c. Discounted Price
Despite your efforts to make these refurbished products as good as new products, buying pre-owned products is still different from buying a brand new product from the original manufacturer. Therefore, Amazon asserts that any refurbished or pre-owned product prices need to reflect a discount of at least 5%.
d. Business Proof
In addition to listing quality products, Amazon Renewed is also only available for trusted brands. To register for this program, you need to prove that your business has been established.
Providing invoices that show you've sold at least $50,000 worth of qualifying refurbished purchases within 90 days of your application. For existing Amazon sellers, showing you have an order defect rate (ODR) of under 0.8% in the last 90 days. For Apple products, supplying invoices for at least $2.5 million worth of Apple refurbished products in the last 90 days.
#2 Create an Amazon seller account
After confirming that you are eligible to sell products on Amazon Renewed, if you do not have a seller account, you first need to create an Amazon seller account.
There are two options offered: an individual plan that has no monthly fee but costs $9.99 for every item you will sell, which might work for you if you only have a few things to sell. Another is a professional plan, for which you have to pay $39.99 per month, if you have lots of items to sell, this one is better for you. You can start any of them, but my suggestion is if you don't have lots of items to sell, the individual plan is better for you.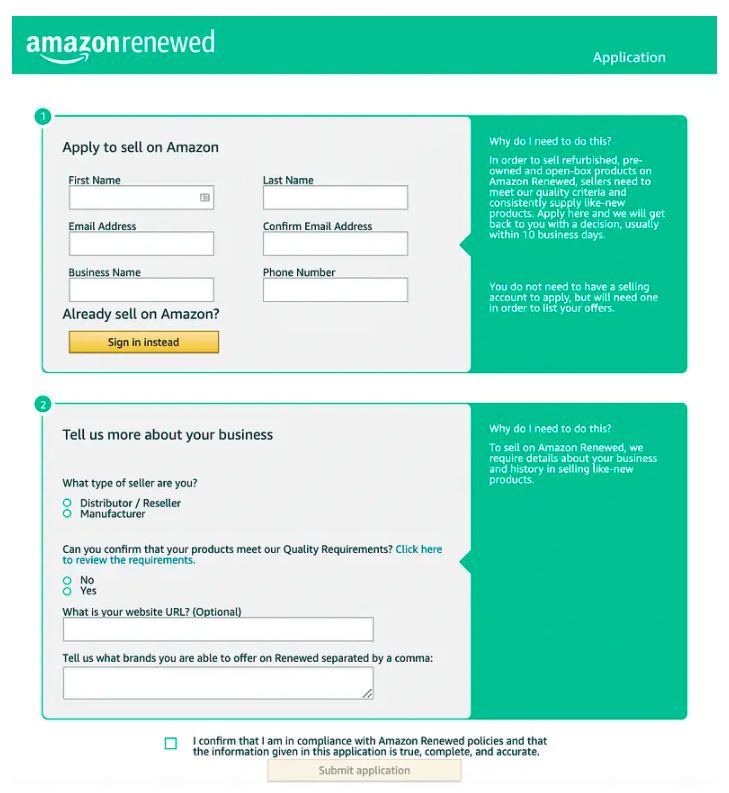 #3 Find renewed products opportunity
Product research is very important, as is the sale of pre-owned products. You can check the Amazon Best Sellers Rank to know which of the current hot-selling renewed products and which are likely to become hot-selling renewed products.
When I searching for "Renewed" on AmzChart, I get a long list of renewed products, which can be sorted according to the current BSR. Generally, we will choose products with a BSR of less than in 2000 and then look for more product opportunities.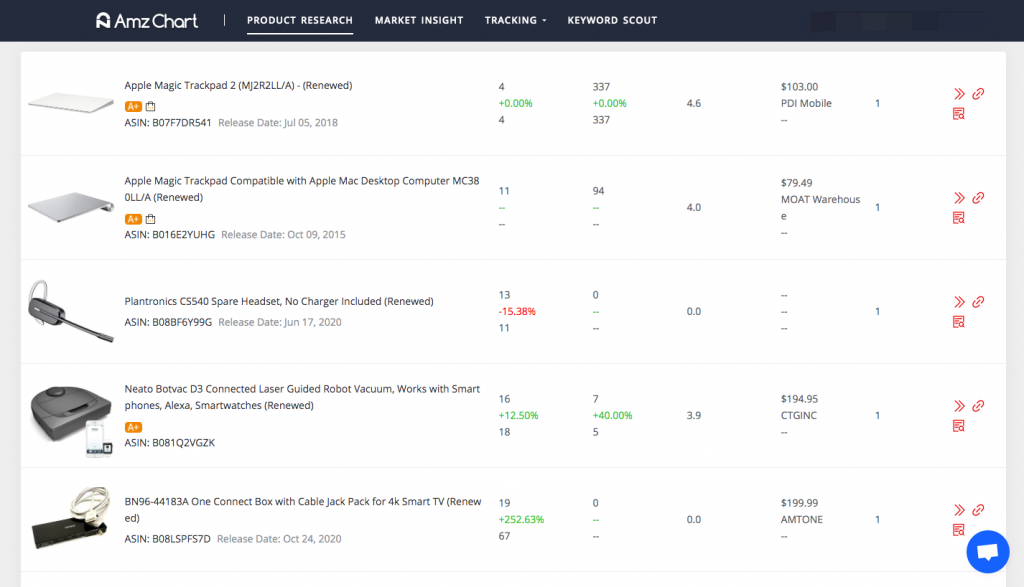 If you don't know what product to choose to start selling on Amazon Renewed, then you can start with Amazon BSR analysis tool AmzChart.
Check this "Logitech Wireless Trackball Mouse", the Buybox price is $27.99, and when I search for the same but new product on Amazon, I found the price is around $50.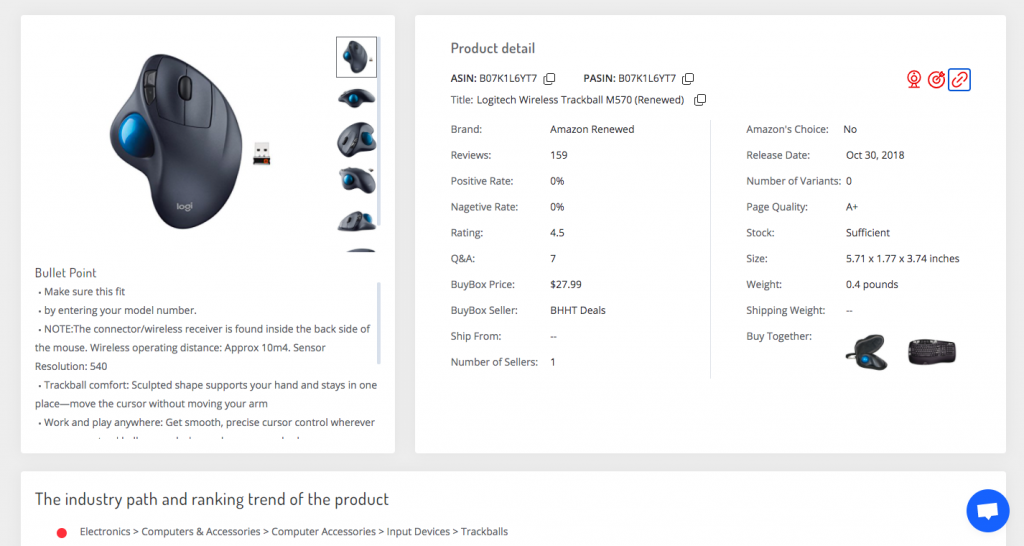 #4 Launch your products and start selling
After finding the product you want to sell and make sure they satisfied the requirements of Amazon Renewed, then list it on Amazon and start selling. Then you can optimize your product listings to promote your sales. And try to optimize every detail of your products and keep them to be competitive!
The reasons why selling renewed products on Amazon Renewed
There are many reasons for you to consider joining Amazon Renewed.
As you can see, Amazon Renewed application conditions are strict, and not every seller can settle in. Compared with selling new products, this plan of selling pre-owned products leaves you with more room for development. And because of Amazon's quality requirements, as a renewed seller, you can also benefit from a high degree of customer trust. In addition, Amazon's e-commerce solutions make it much easier to sell to global markets, whether your products are new or not.
The Amazon Renewed program is not for everyone, but if you meet Amazon's requirements, then this is a good way to attract more customers to your product. Selling second-hand and refurbished products does require your own efforts and challenges, but in general, if done correctly, it will be very meaningful.