Zonguru Vs AmzChart, Which Is The Best Amazon Seller Tool?
When it comes to starting a successful business on Amazon, the first thing is to find the "winning items" and generate massive profit margins for you, then you can expand your business scale. But how to find high potential low competition products? These Amazon seller tools such as Zonguru and AmzChart might offer some help. AmzChart provides in-depth Amazon BSR data analytics to help you get a well understanding of what's trending on Amazon, and the chart will tell you if there has a chance for you to take a market share.
But which one is the best Amazon seller tool? This article is going to discuss it.
What is Zonguru?
ZonGuru is a software designed by two experienced entrepreneurs who decided to improve a seller's path at Amazon, Jon Tilley, and Adam Hudson. They combined a few helpful features and performed one tool, although sometimes it's better to concentrate on a single particular quality. With this instrument, a user can find product keywords, track the market data, analyze a business, and increase the income.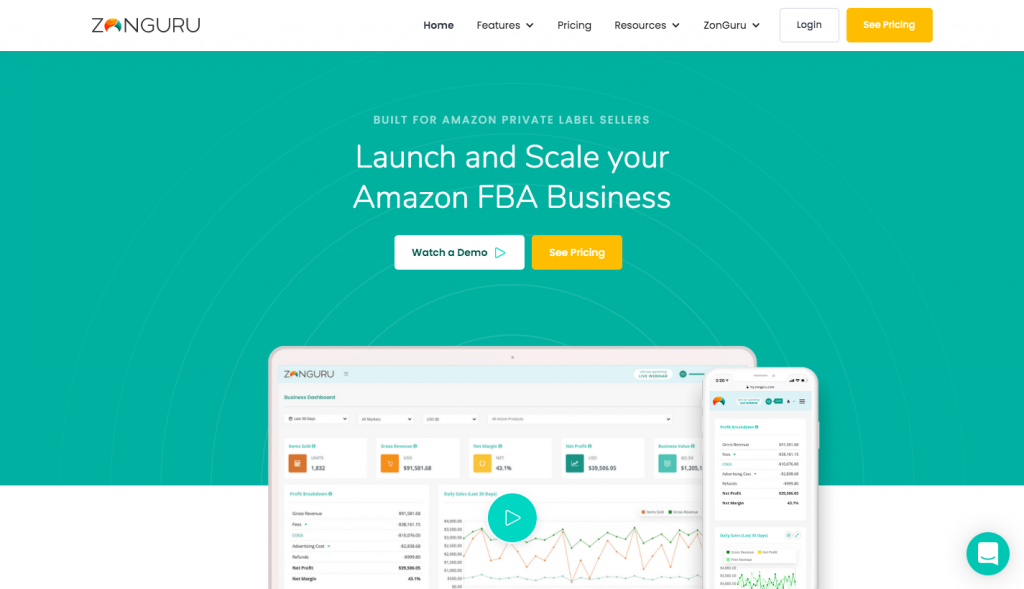 What is AmzChart?
AmzChart is a product research tool based on Amazon BSR data analytics for Amazon sellers, it's totally free, so you can find some product ideas through scrolling down the page, also, it provides more than 400+ filter criteria, you can personalize your filter criteria settings based on your preferences. Moreover, it provides all Amazon categories analysis to help you find the most profitable niche market.
AmzChart&Zonguru Comparison
| | | |
| --- | --- | --- |
| Features | AmzChart | Zonguru |
| Pricing | Free | $35-$119/month |
| Amazon marketplace | USA | / |
| product research | ✅ | ✅ |
| niche finder | ✅ | ✅ |
| niche rater | ❌ | ✅ |
| Amazon BSR analytics | ✅ | ❌ |
| Sales spy | ❌ | ✅ |
| LIsting optimization | ❌ | ✅ |
| Amazon category path | ✅ | ❌ |
| Amazon BSR products | ✅ | ❌ |
| Market insight | ✅ | ❌ |
| Competitors tracking | ✅ | ❌ |
| Customer engagement | ❌ | ✅ |
The first step to make your Amazon business differentiate from others is to find the winning products that can generate some benefits for your business. AmzChart is the perfect one to do product research because it offers information about what's trending on Amazon, and you can analyze these metrics to find whether there has a market for you to dive into. As for Zonguru, it's more like an all-in-one Amazon tool that could help you with every aspect of your Amazon business. You can combine these two tools to optimize your business.