How to Buy from Alibaba and Sell on Amazon–AmzChart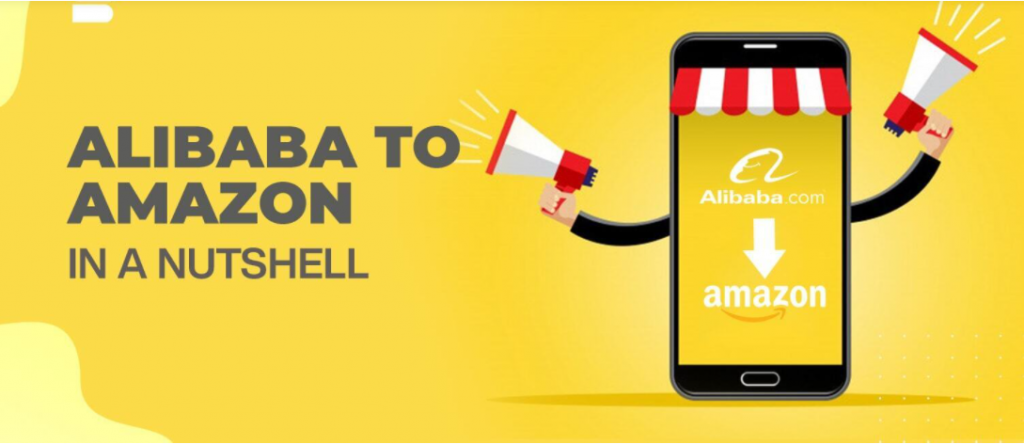 Dropshipping from Alibaba to Amazon seems intriguing, and you may be wondering if anyone has tried it before. Is it even worth the effort? Is it possible for me to make money?
In particular, you may be thinking - what are the best strategies for importing products wholesale from Alibaba to sell on Amazon?
Your quest has come to an end 'cos you are in the right place!
As a seller on Amazon, you can skyrocket your store net profit by buying from Alibaba and selling on Amazon. To ensure you have the best, I have compiled the perfect blueprint for sourcing products from Alibaba to sell on Amazon.
Intrinsically, if you're an Amazon seller, you are a creative individual with first-class e-commerce trading abilities looking for methods to diversify your business and increase profits. Undoubtedly, buying from Alibaba and selling on Amazon is one of the best methods to accomplish it.
Emphatically, purchasing products from Alibaba and reselling them on Amazon appears to be simple - you locate a product with a high-profit margin to resell on Amazon.
Undoubtedly, this is correct!
But as always, when you start a new business, you discover sooner or later that the process is not as easy as it looked at the first glance.
Similarly, to resell from Alibaba to Amazon, you need to make your product research, consider the risks, estimate the profitability of the product, and more.
Trust me. I've got a lot more for you!
In this post, you will discover the hurdles you need to fly over when buying from Alibaba and selling on Amazon. Besides, I have for you the step-by-step guide to sell on Amazon.
Interestingly, this post is a combo!
You will not want to miss it!
Moreover, before we dive in, let us get down to the details.
It will be perfect to understand what Alibaba and Amazon are. What is their uniqueness? What do you stand to benefit from these industries?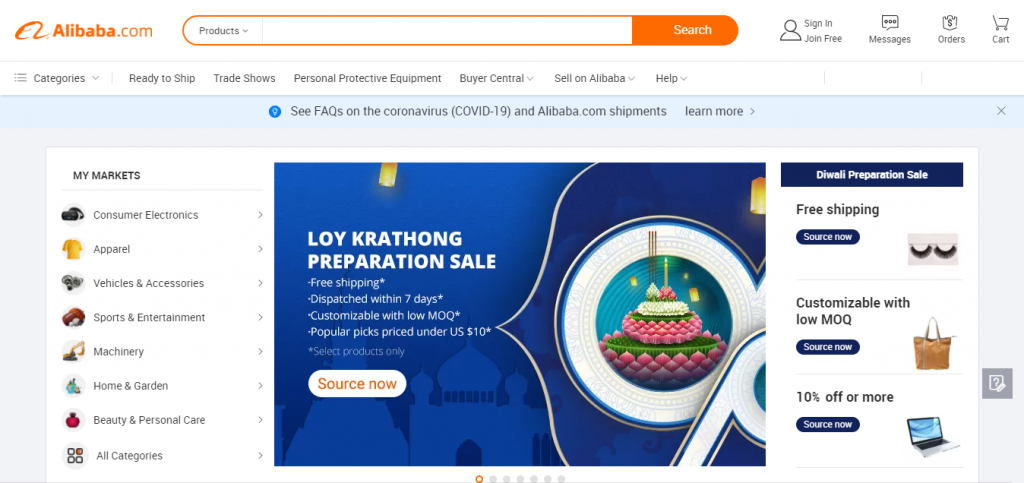 Alibaba is a Chinese multinational technology company that specializes in e-commerce, retail, Internet, and technology.
In addition, this company was founded on the 28th of June, 1999 by billionaire business mogul Jack Ma. Alibaba is one of the world's largest online commerce companies. Again, this company provides business-to-consumer, customer-to-customer, and business-to-business sales services via its main sites – Taobao, Alibaba.com, and Tmall.
According to the report by the Alibaba group in December 2020, the company operates with over 779 million annual active members yearly. In particular, more than 80% of China's online shopping market is monopolized by Alibaba.
In particular, transactions on the company's online sites totaled $248 billion last year. Emphatically, this is more than those of eBay and Amazon combined. Besides, the company is one of the most valuable Chinese public companies, ranking among some of the country's state-owned enterprises such as Apple, Google, Facebook, and more.
Interestingly, Alibaba has become the most popular source for Amazon sellers in search of lower inventory costs.
Let us figure out all that Amazon entails.
What is Amazon?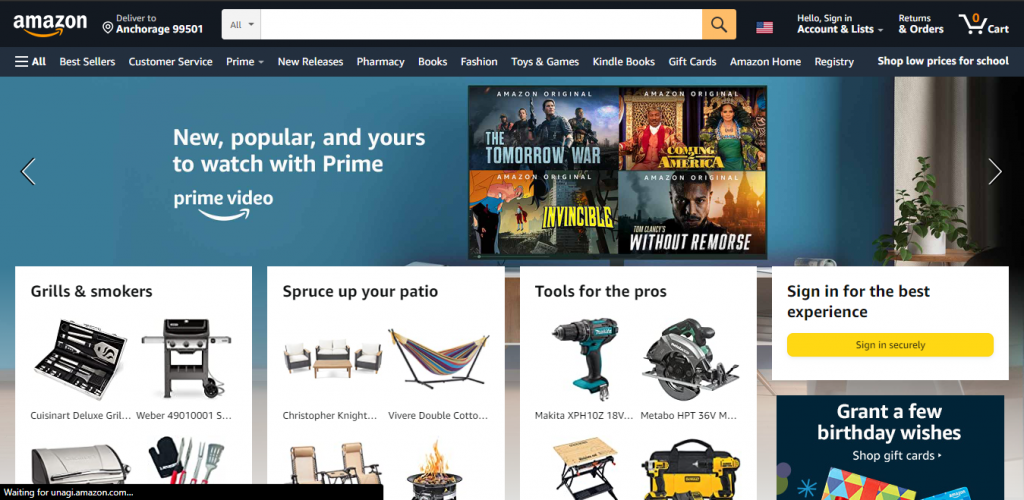 The Amazon Company was incorporated as Cadabra in 1994 by Jeff Bezos but was changed to Amazon in 1995.
Interestingly, Amazon (Amazon.com) is one of the world's biggest online retailer with over a 2.5million sellers and a noticeable cloud administrations supplier.
Amazon was originally a bookseller but has expanded to sell various consumer goods such as beauty products, apparel, groceries, health products, and more. In addition, Amazon specializes in digital media product sales such as electronic devices such as the Kindle e-book reader, Kindle Fire tablet, and Fire TV - a streaming media adapter.
Now, we have a glimpse of what we are about to figure out in this article.
It's time to get on the ride and explore!
Let's begin by examining some essential advantages of buying from Alibaba and selling on Amazon.
Why Choose to Buy on Alibaba and Sell on Amazon?
With the advancement in technology, a search on any of the search engines gives you a list of various e-commerce platforms that claim to offer the best customer service. Moreover, most of these companies provide less than what they claim to offer.
What makes Alibaba different?
1. Low price
Every dropshipping business owner seeks to get products at a low price but with a high-profit margin.
In particular, Amazon sellers use Alibaba because of their low prices. In many cases, they deal directly with a manufacturer to cut out the middleman and lower their costs. Moreover, Alibaba items are made by manufacturers who have their shops, while some are imported by trading companies that have direct contact with producers.
Furthermore, in China, its common knowledge that the more a client buys, the cheaper the product becomes, and Alibaba is no exception.
The fact that Alibaba is based in China also affects their product price rate. Emphatically, the secret of China's lower pricing is a sophisticated, national plan to make China the leading superpower of the twenty-first century.
2. Bulk Purchase
Alibaba allows sellers to buy wholesale products directly from manufacturers' products in bulk. All that is required is to place an order for the desired product quantity based on the company's terms and conditions and you have it delivered.
3. Millions of Sellers to Choose from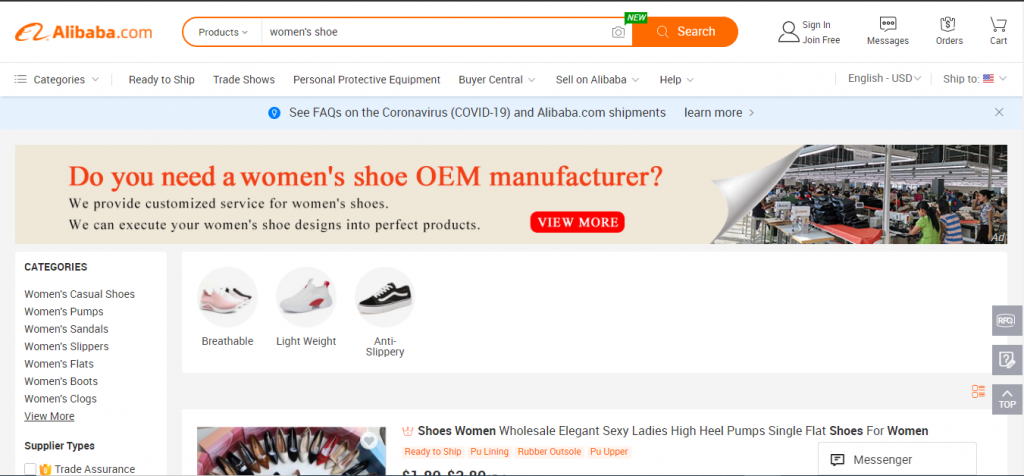 According to the report by digitalcommerce360, Alibaba is one of the top largest global business-to-business marketplaces with over 150,000 sellers. This wide variety of sellers to choose from gives buyers the flexibility to select the products that best suit them.
For example, a quick search for female shoes gives a long list of different women's shoe sellers and intriguing products.
Just as you know – entry to a goldmine cannot guarantee access to the resources therein.
Alibaba is the goldmine since its best products are its gold. You need to know how to find them.
Trust me. I have always got what you need per time!
Let's figure out how to source the gold in Alibaba.
How to choose the best products on Alibaba?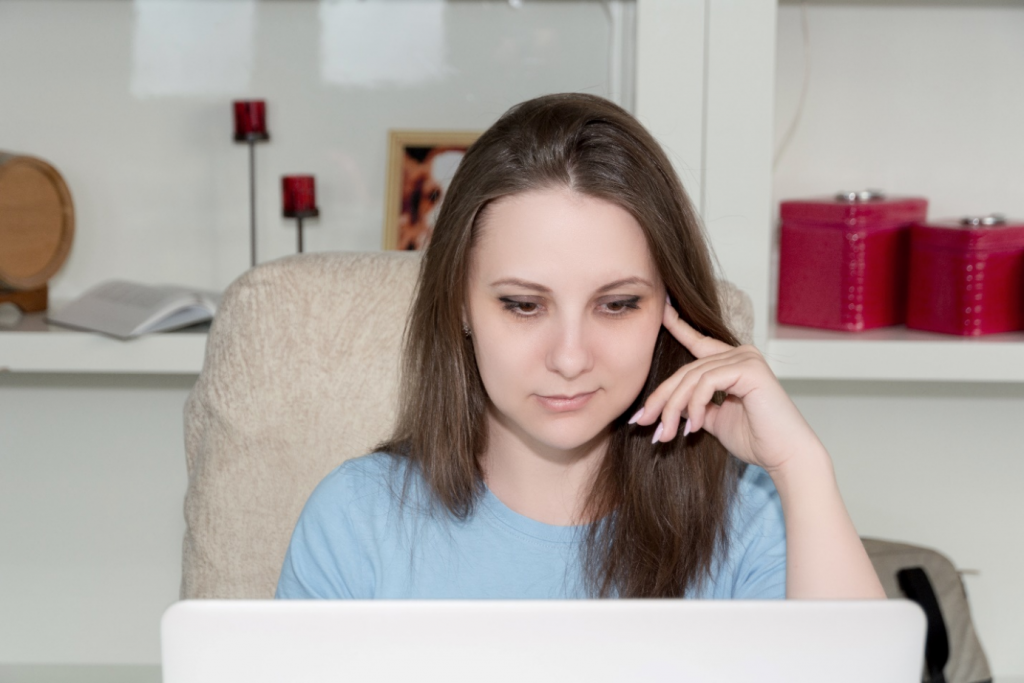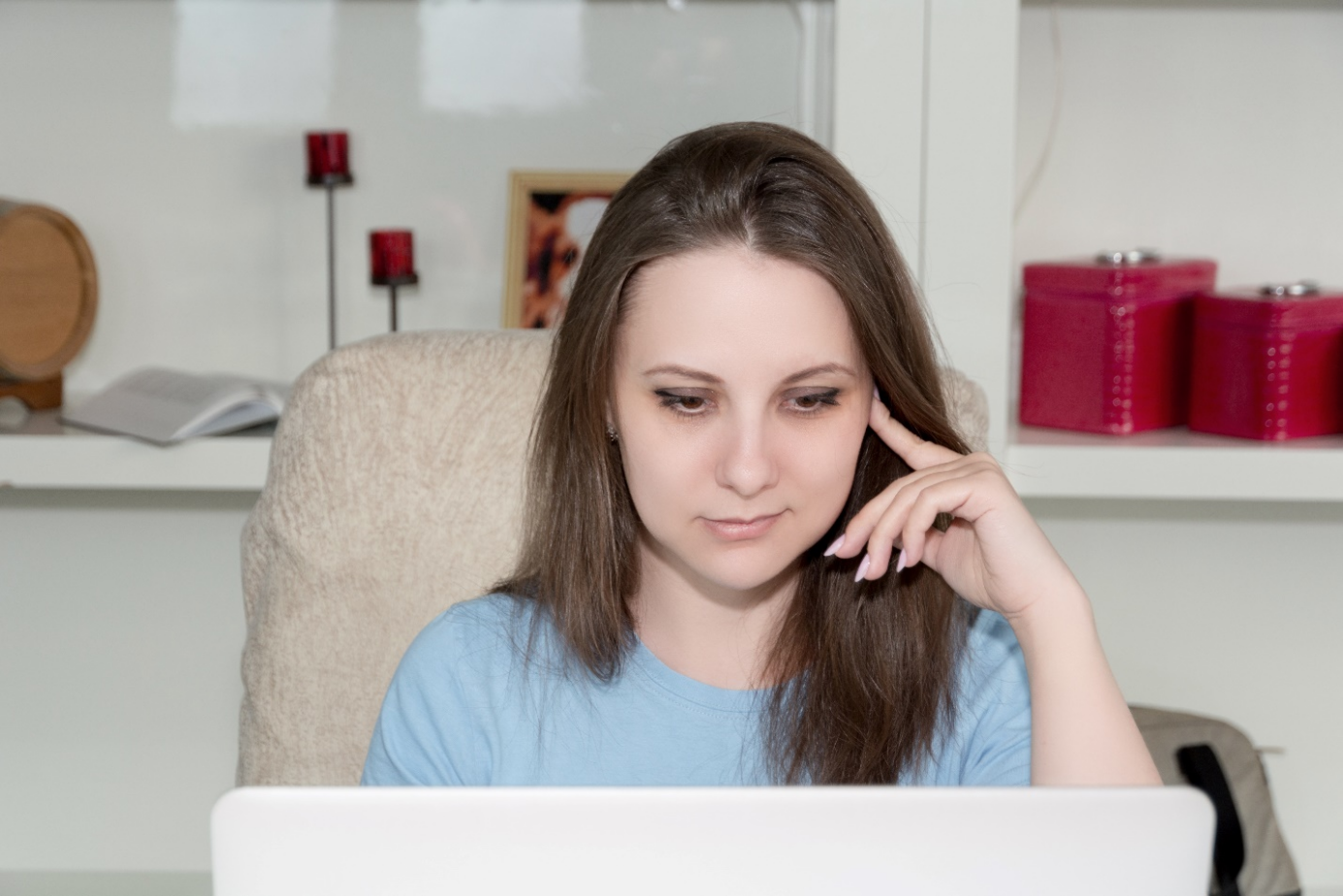 1. Create an Account
This step is the first required task to access the best products on Alibaba – a free Alibaba account.
You will be required to fill in information such as your country, Email address, company name, full name, contact number, and password.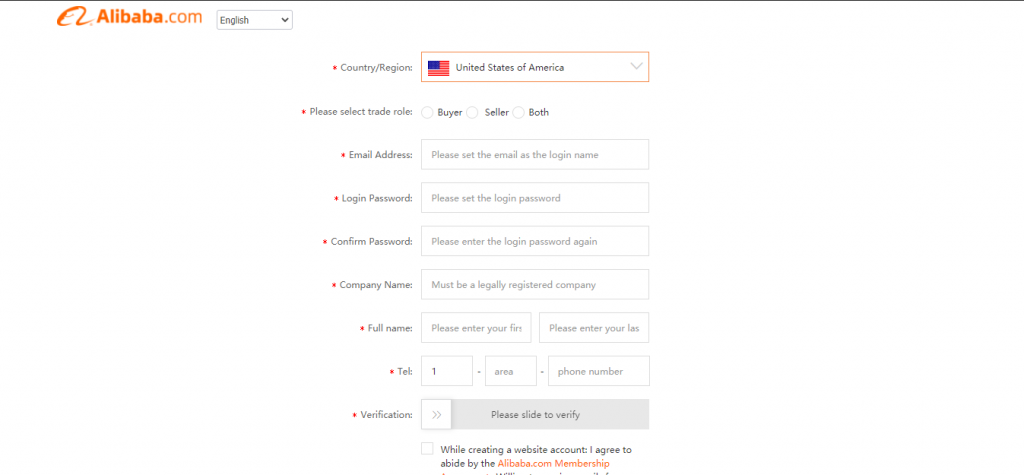 As for the trade role, you will either select Buyer or Seller or Both. Only select Both if you plan on buying and selling on Alibaba.com
2. Make Your Category and Product Research
It is time to search for the best products!
Interestingly, product research on Alibaba can be achieved in two ways – search and browse the general marketplace or post a request for quotation.
Let us examine the steps one after the other:
Browsing the Alibaba marketplace is similar in process with other search engines. You input your inquiry into the search column and browse the result. For example, in the screenshot below, my search inquiry is "men's polo" and there is an automatic display of related searches.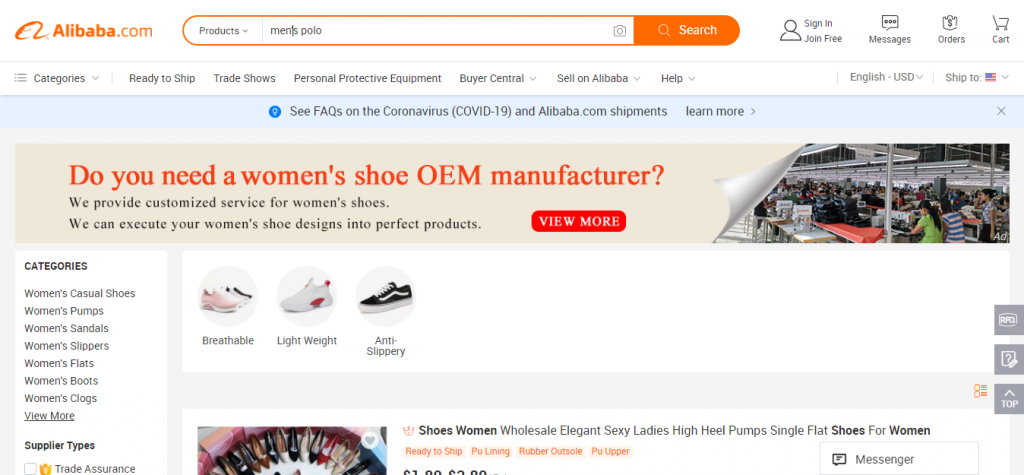 In addition, the new search feature allows you to upload image for an effective product search.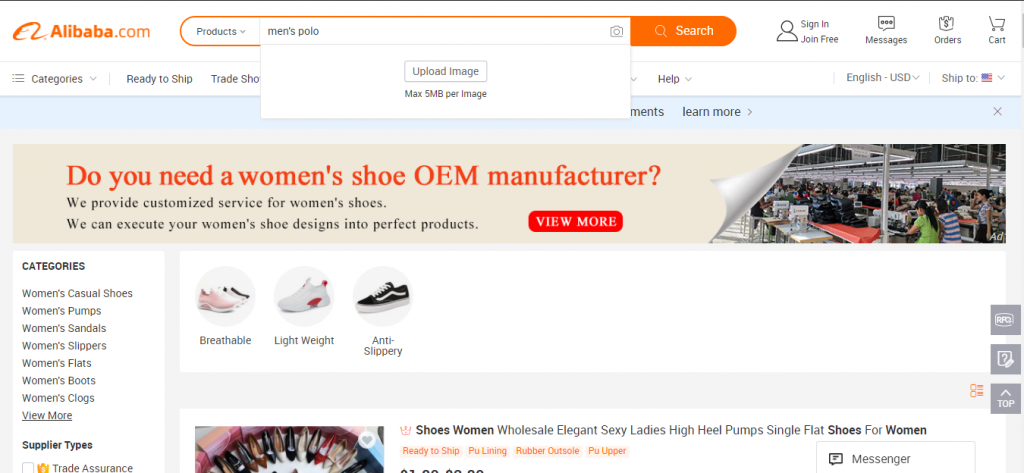 Furthermore, you can research products via exclusive categories such as machinery/vehicles & accessories, consumer electronics, fashion accessories, lights & lightings, and more.
Additionally, results can be filtered based on a variety of factors including supplier type, product type, minimum order, price, supplier country, management certificate, product certificate, etc.
Similarly, you can post a Request for Quotation on the RFQ page. Interestingly, suppliers that can meet up with your orders will reach out to you. Again, you will be required to fill in the basic product information such as the product name, sourcing time, trade terms, maximum budget, and more.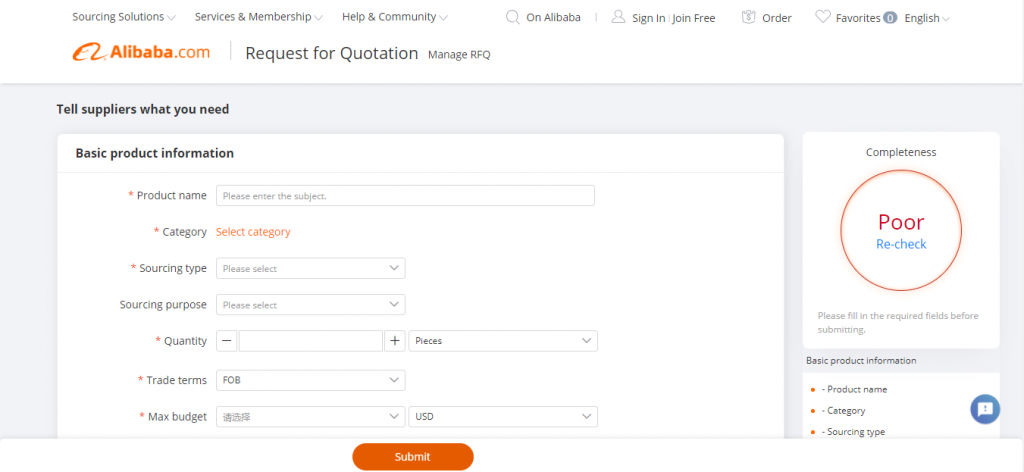 However, there are millions of sellers on Alibaba.com, yet, some sellers have specific certifications and achievements that set them apart from the rest. Undoubtedly, a keen examination of your competitors will give a glimpse of what is trending.
In many cases, what is required is not a new product search but a deep analysis of your competitors' activities. Moreover, the traditional way of research will leave you frustrated in the long run.
Interestingly, with
the Amzchart market function, you can figure out intrinsic details about your competitors, such as their best-selling products, products prices, product sales analysis, and more.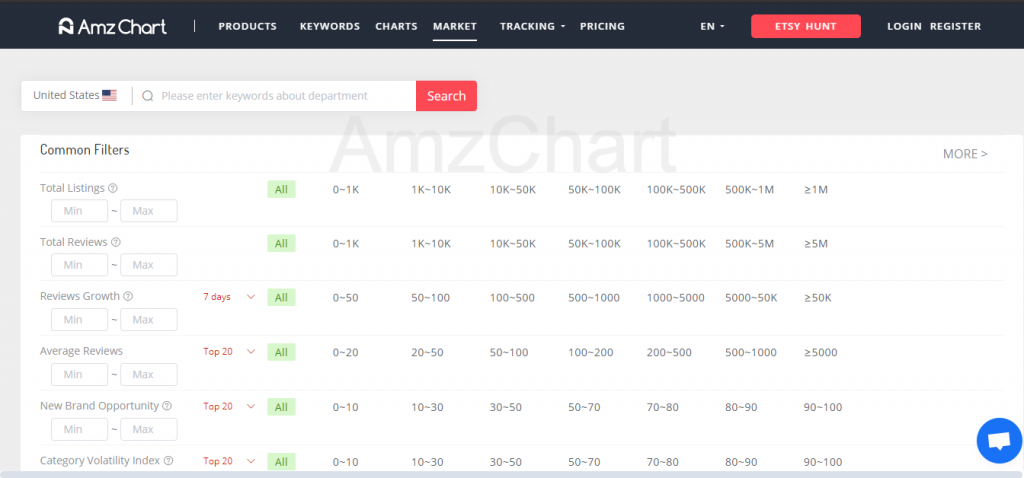 In addition, with the Amzchart keyword function, you can figure out best keywords used by your competitors. Besides, you don't need to earn a special degree to use this tool - it is straightforward and simple-to-use.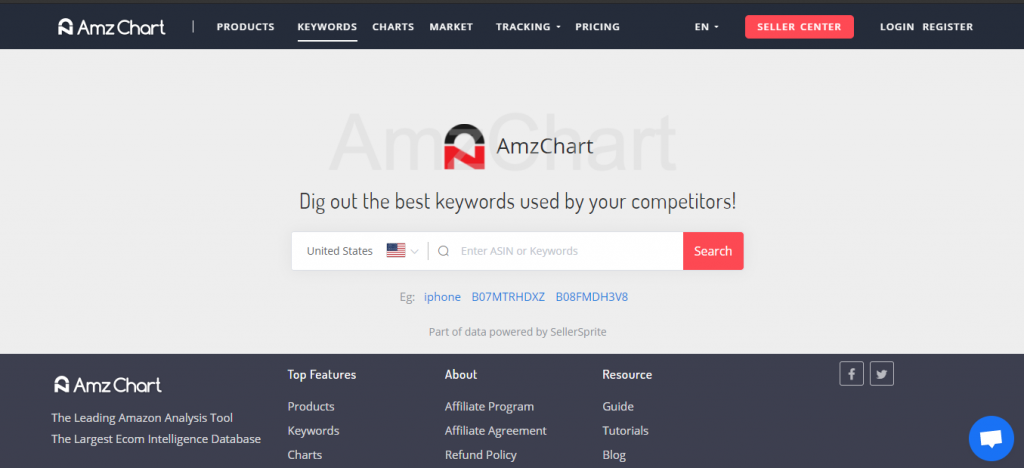 Moreover, this tool requires that you register your details by providing a valid email and a password.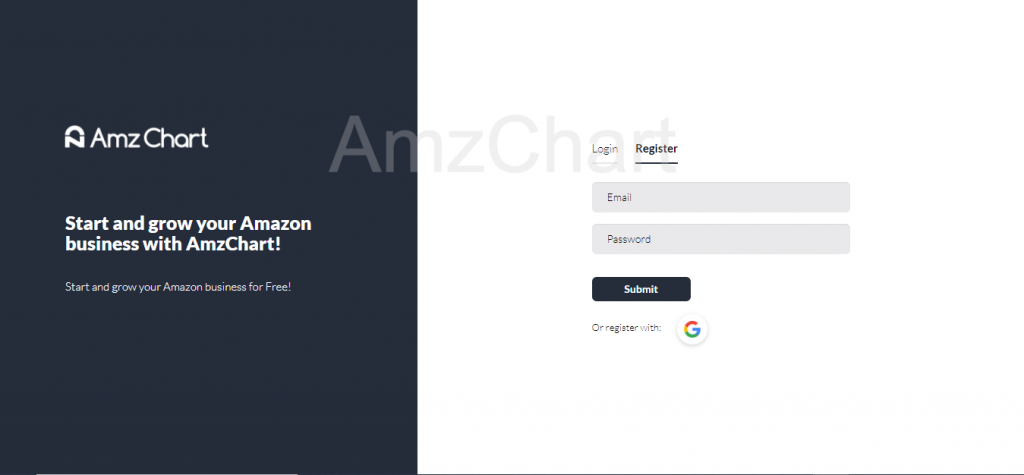 Are you thinking about it?
Try Amzchart now, and you will be glad that you did!
4. Contact Manufacturers to Send a Product Sample
Oftentimes, products displayed by manufacturers are not the same in the physical. The displayed product might be less or high in quality as compared to the original product.
Always ask for a sample and test it before buying. Most importantly, ensure you are satisfied with the product before making a purchase.
How to Sell on Amazon
1. Create a Personal account
The first process to selling on Amazon is to create a seller account. In particular, there are two kinds of seller accounts available to Amazon users – individual account or pro seller.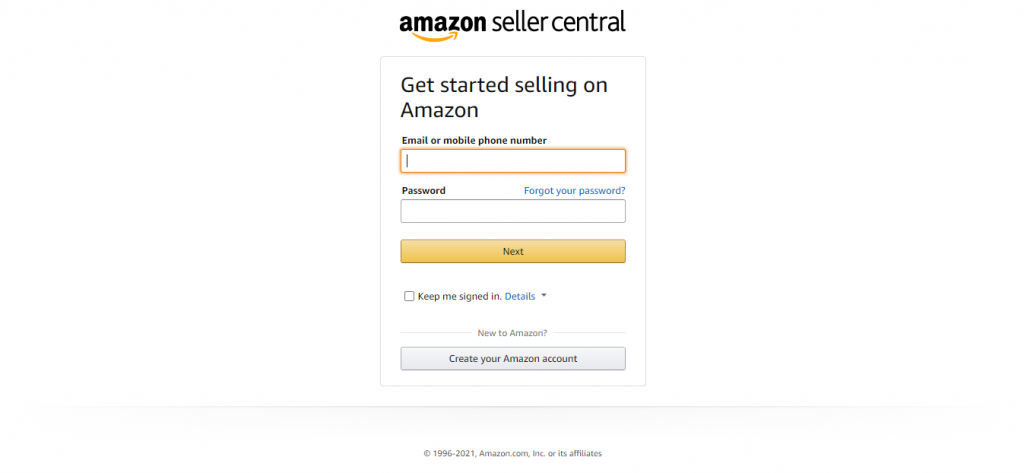 The individual account cost $0 monthly but sellers will be charged $1 for every product they sell on Amazon.
Also, the pro seller account charges $39.99 monthly. Interestingly, this account entails more features that makes sales on Amazon more profitable.
2. Set up a Business Plan
To start an Amazon FBA business, you need to develop a plan to ensure everything is on the right track. Most importantly, your business plan should include your business mission, market analysis, products and services, marketing and sales, competitors' detail, and more.
In addition, to sell on Amazon FBA, you need to research the market and find the right, trendy and competitive products that match your passions and interests.
3. Make a Difference with Your Competitors
Once you have identified your niche, you need to verify it in the market by making in-depth market research.
Importantly, you need to track competitor sales over a while. Besides, tracking your competitors will give you a more realistic view of your market, niche, or segment.
Interestingly, with Amzchart, you can track market changes such as your competitors' new strategies, bestselling products, new price rates, and more.
4. Know Your Suppliers and Place Orders
You need to contact your product suppliers to find the right provider for you. You can send them an email, call or visit the suppliers.
In addition, you need to learn about sample products, their prices and minimum order quantities (MOQs), order limits, product quality, shipping costs and capacities, and more.
Once you have selected your supplier, you need to place an order.
5. Create Product Listings
You need to create a product list to add your items to the platform.
In particular, you should include clear, high-resolution images. Make sure your products are Prime Eligible and take advantage of the free shipping options available to Prime members.
If you do not have many items, you can list them manually. Also, if you have multiple entries, you can download a spreadsheet with each of your entries.
Most importantly, try to provide enough information about your product and make your product listing attractive.
6. Keep Product Inventory Level Available
Amazon FBA sellers should pay attention to their inventory. Try to manage and replenish your inventory properly. Again, you must ensure that you have enough stock to sell and your product inventory levels are available to your market and sales.
Final Thought
At first, sourcing items from China may appear to be difficult. However, as you can see, Alibaba simplifies and streamlines the procedure. Also, there are advantages and disadvantages to everything, but the advantages far exceed the disadvantages.
Undoubtedly, if you follow the instructions given here, you'll have a huge inventory of profitable items that you can sell on Amazon in no time.
Interestingly, to ensure you have the best of experience in your e-commerce business, Amzchart is here to help you out.
Emphatically, Amzchart appears to be the finest Amazon BSR & Product Research tool that will help you identify high potential items with 9 marketplaces and over 100,000,000 products.
Give Amzchart a trial today, and you will be glad you did! Good luck!