2021 Amazon Mother's Day Jewelry Marketing Guidance
Mother's Day in 2021 is approaching, which means that a large number of Amazon sellers will increase their profits during this period. It is worth mentioning that the Amazon platform has begun to use the traffic resources on the site to create momentum for Mother's Day. Open the homepage of the US site, the Mother's Day gift topic in the first scrolling banner, occupies a very large position.

At the same time, as Amazon's current new traffic weapon, Amazon Live "Amazon Live" also has a special Mother's Day event. This shows that Amazon attaches great importance to this Mother's Day, which must be a large-scale revenue event.

According to the data provided by Statista, in terms of the number of products sold by Amazon in different categories, jewelry products account for most of Amazon's sales. The target audience of jewelry products are often women between the ages of 20 and 50, which fits well with Mother's Day. Therefore, increasing your jewelry-type product budget on Mother's Day will be an excellent time for you to make money.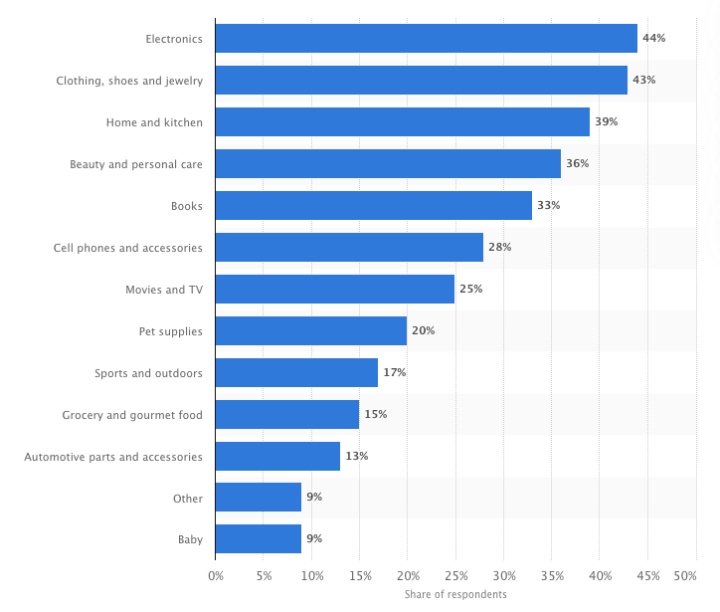 Find Your Mother's Day Jewelry Niche
Your mother will always be your closest woman, she is not only a mother but also a beautiful bride. Bulova Women's 96X136 Swarovski Crystal Box Set with Heart Pendant Necklace will be the unique and perfect gift for Mother's Day this year.
Fifth and Fine 1/4ct tw Diamond Cluster Pendant in Sterling Silver will also be a good choice. Every mother wants to be the most shining woman. Beautiful mothers need beautiful pendants to decorate. There are few sellers of this product, and its cost is not very high in jewelry, but its style is very attractive.
Owning a watch and pendant, a fine earring is also essential. Silpada's earrings are very beautifully designed, and the pearls are covered in silver, just like pearls are growing. This product has only one seller, and Amazon BSR is 3,736, which is very good. The user's purchase reviews are also very good, with an average rating of 4.6. This will become one of the best Mother's Day gifts.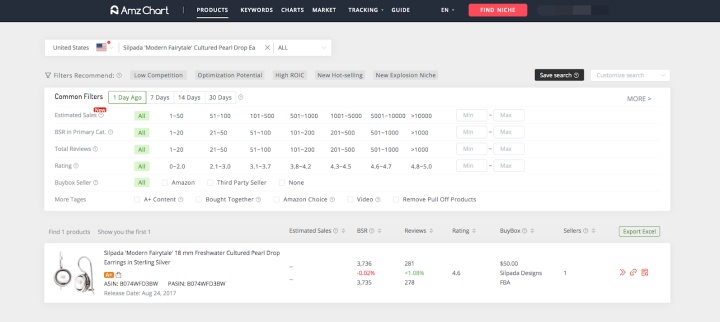 Of course, a magnificent bracelet is also a favorite of mothers. This Kate Spade bangle will be the best gift for mothers aged 30 to 50. The combination of gold and black can bring out the noble temperament of mothers, and this can match all clothes. According to data from AmzChart, the product has been relying on the number of reviews increasing, and the score has always remained above 4.5 points. This is reliable jewelry.
Mother's Day Jewelry Marketing Tips
1. Please add a Mother's Day tag to your product, add more keywords related to Mother's Day in your product, and your product will get more exposure in the Amazon Mother's Day area.
3. Try to take your photos more beautiful. We all know that Amazon images are very helpful for product sales. If you can't complete the photo shooting work alone, then you can ask some website for help, here can provide you with the best quality service.
4. Please don't be stingy in advertising your products. Mother's Day advertising costs a lot, but you are worth participating in this competition. Remember to do only a few discounts on your products, this will be very effective.
5. Perform a lot of promotion on your social media and other channels. Mother's Day is a beautiful holiday. No one will hate it. Remember to add some interesting copy to your post.
Hurry up and take action. The patient preparation for Mother's Day will provide you with enough audiences. This is an excellent time to make money.