How to become an amazon influencer on Amazon in 2021?
Do you know? Social networking can make money.
Influential people can get paid by promoting products that he thinks his audience will like, or they can sell products through live broadcasts.
Now, Amazon has added a feature: Amazon Influencer Program. The Influencer Program is an extension of Amazon's Associate's program whereby anyone with a qualifying website can promote products and earn commissions on sales they bring to Amazon. Depending on the type of product you promote, you can earn anywhere from 1-10% of each sale The income reported by influencers ranges from a few dollars per month to more than $1,500. For some of the more popular influencers, this is obviously an important source of income.
However, these two plans are not exactly the same, and some requirements set by Amazon need to be met before they can be allowed to join.
How to get the influencer program
Associates plans you to have your own website or blog. Amazon Influencers will analyze your social media accounts to determine whether you are suitable for the program, including:
YouTube
Instagram
Facebook
Amazon can provide real-time approval for those who apply using YouTube or Twitter accounts, although Facebook and Instagram may take up to five days. Any type of influencer can participate in this program.
When determining your eligibility, Amazon will look at the number of followers and other engagement metrics you have on your social media. Amazon is happy to accept micro-influencers and even nano-influencers if their participation indicators are checked out.
You also need an Amazon account. Assuming your social performance is acceptable to Amazon, you will associate your social account with your Amazon account.
Process for obtaining influencer qualification
All influencers will be automatically verified after being approved by the plan.
The new influencer is verified as part of the Amazon influencer program registration process. You can choose a currently verified account or wish to create a new influencer account.
Influencers need to apply and pass the review before they have the opportunity to join the Influencer program. Amazon will reply to them through the confirmation email with a unique URL, and then influencers can share this URL on their social media. When shoppers buy a product through the link, the influencer will get paid .
Factors reviewed by Amazon Influncers:
Number of fans
Fan engagement
The quality of content posted by celebrities
Relevance of Amazon products
How to apply to the Amazon Influencer Program
If you have a strong, engaged following on social media, now would be a good time to apply to join the Amazon Influencer Program and start earning money on product recommendations.
The market for influencers is growing: 6% of third-party Amazon sellers are hiring influencers to promote their products, and nearly a third (32%) plan to grow their business through social media, influencer marketing, and other off-Amazon marketing efforts.
To apply, go to the Amazon Influencer Program homepage and click "Get started."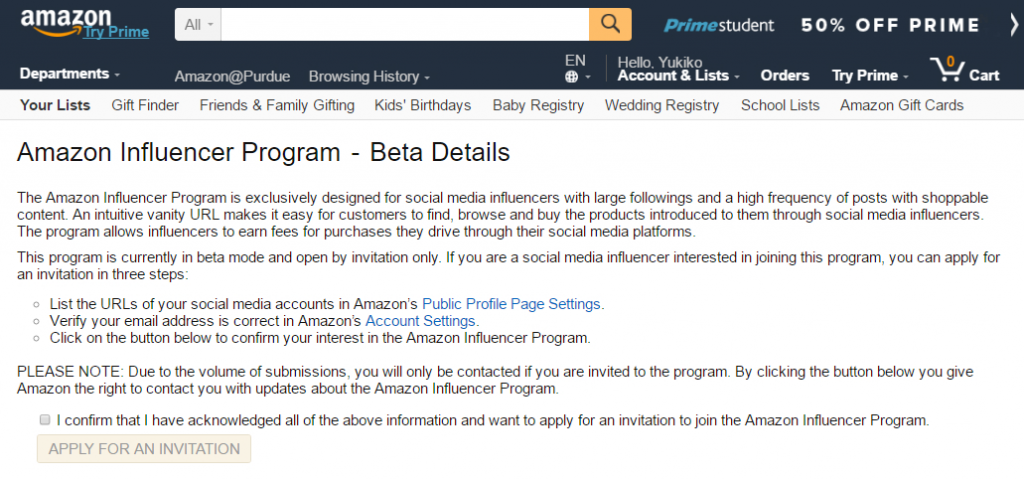 If you have a current Amazon customer account or Amazon Associates account, you can apply through that login. If not, click "Create new account."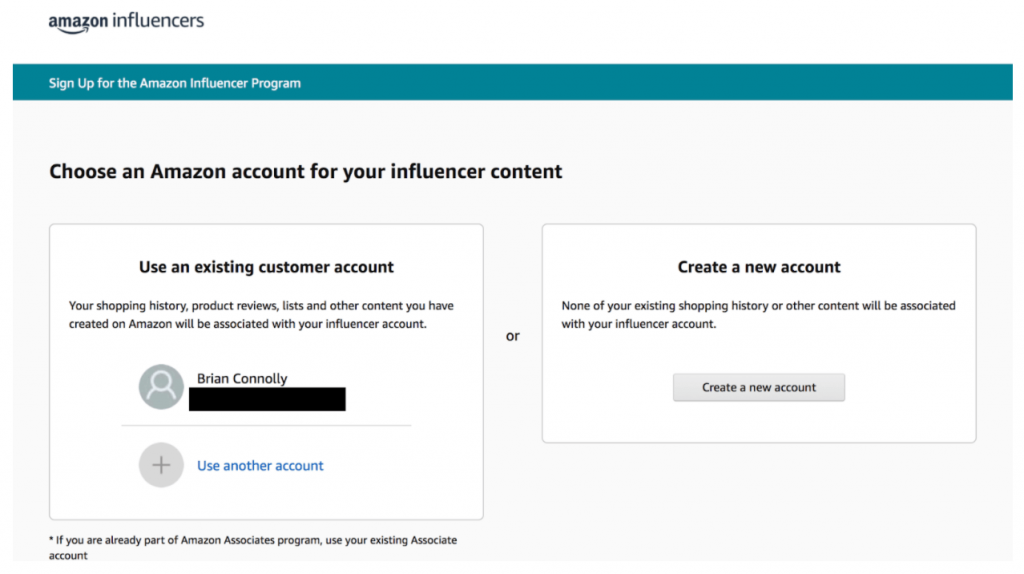 You will need to connect one of your social media accounts to your application so Amazon can determine your eligibility.
As mentioned above, you can choose to connect to Instagram, Youtube, or Facebook.
If you apply with YouTube or Facebook, you will know instantly whether you're approved or not. If you continue with Instagram, it may take up to 5 days for Amazon to make a decision. You should apply with whichever account has the most followers — it's worth the wait to apply with Instagram.
What should Amazon sellers do
1.Provide efficiency through product search tools. Choosing products is always the most important thing for Amazon sales. Even if we become an influential person, or look for an influential person to cooperate, we need high-quality products as the foundation. Through the "product" function of AmzChart, we can filter products that meet the requirements according to our own conditions.
Monthly sales: 1000~5000
BSR: 5000~10000
Price: 20$~40$
Shelf time: the last one or three months
Number of product reviews: 10~50
Negative review rate: 85~50%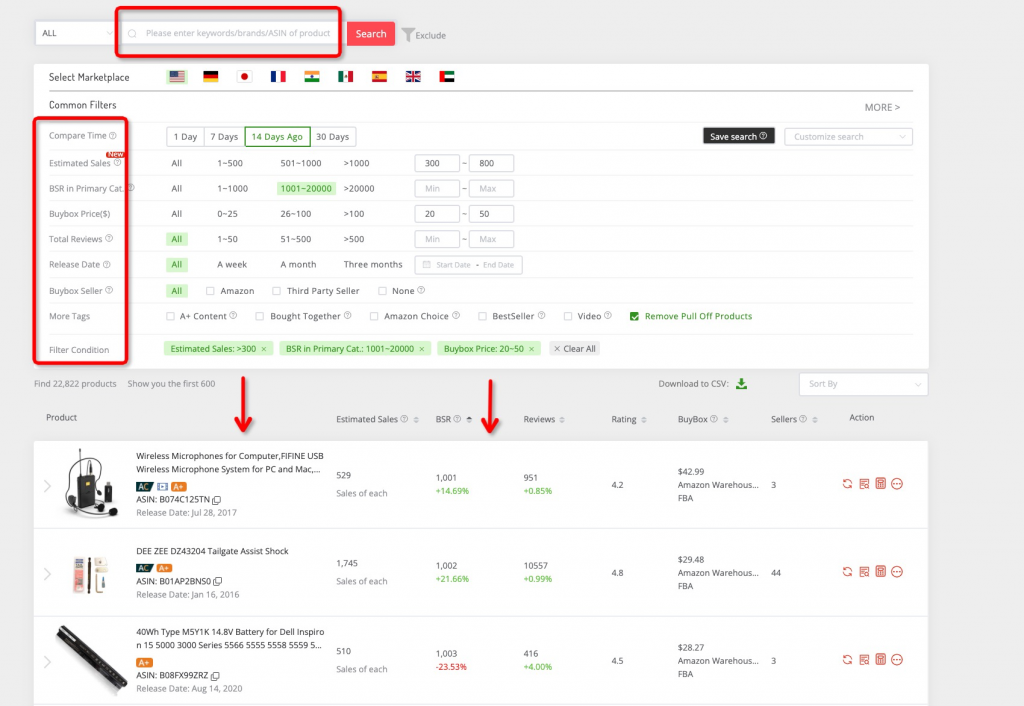 Through the search of product conditions, we find products with sales potential and new products that may be big sellings. If you want to search products with high prices and few sellers, you can also set different conditions to filter them out.
2. You can use Sellercenter to query influential people's store data
Many influential people will establish their own independent station shops, because they have their own social accounts and fans. How to check their stores?
Here you may need to use Sellercenter. At present, its basic functions are still free to use. You can monitor the store information of your competitors shopify, Amazon, wish and other e-commerce platforms, including:
Number of products
Number of categories
Alexa ranking
Number of FB ads
Fan situation
To become a successful seller, you need to keep abreast of the competitor's products and store data: the number of products, product reviews, and then improve your products.
3. Find influential people who match their products. Those who have played social must understand that Internet celebrities are also classified, such as fashion, food, technology, etc. We need to find relevant Internet celebrities. Then become friends with them.
4. If you have a new product online, you can also let influential people test your product on their account to check the market of their new product, or display your product in their Amazon Influencer Page.
5. The greatest use of influential marketing is to build your own brand image and brand awareness, or directly create your own image.
Advantage
The Amazon Influencer Program program helps sellers increase sales, no longer solely through their own traffic and conversions to increase sales.
Amazon's platform "connects" influential people, allowing more influential people to share products through social media marketing, and sellers can also use influential people to directly push products to their pages, which also reduces This is the process for sellers to find influential people on their own.
It's honorable to be successful influencer! What are you waiting for? Apply for the Amazon Influencer Program and start getting paid for product recommendations your followers will love.