Finding Profitable Amazon Affiliate Niches with Ahrefs
Making passive income on the internet is still the most sought-after goal of every digital marketer.
And most people opt for Affiliate Marketing to achieve that goal.
In essence, affiliate marketing is promoting other people's products or services and get a commission on each sale done by your efforts. Following are the 4 steps of the affiliate marketing process.
Join an affiliate program
Pick products or services to promote
Promote them
If someone buys them, then you get a commission per sale.
There are several affiliate networks that you can join however we will be focusing on the Amazon affiliate program in this guide.
Why Amazon?
Amazon affiliate program is just like any other affiliate program where you sign up to promote the products on your website or blog. And for every sale you make, you get a commission. But the benefit of Amazon Affiliate is their millions of products to promote and the awesome benefit of getting extra commission even if a person referred by you buys anything other than the product you are promoting.
So if you are promoting a coffee maker, and the person reading your blog click on your recommended coffee maker but ended up buying a dinner table, you will get the commission for the dinner table as well. Sounds good, right?
All that with the extra credibility of the Amazon brand makes it easy for marketers to get great conversions, more sales, and better earnings.
Let's get back to our money-making guide…
Now you want to start making passive money online, but you don't even know where to start. Or maybe you have already started your blog, but you feel that you are not making enough money as compared to your efforts.
The key to the above issue is finding the right product or service to promote.
When it comes to getting more commissions, it all boils down to finding a perfect niche or industry that you want to target.
But it's easier said than done.
I won't bore you with a lengthy worldly post on what is a niche, etc., etc. You have probably read it already or you can read all about it here.
A good volume of organic searches.
Low or medium competition.
Medium to high priced products
Got it? Ready to find one for you?
Let's move on. You will need the following ingredients:
Ahref Tools Subscription
Time
Excel or Google Sheets
Coffee (lots of it)
Got all of them? Perfect. Let's see our methods to find the best niche for your amazon affiliate website.
Method A. Exploit Amazon Itself
What's better than exploiting Amazon itself to find profitable niches? Right?
Say, there is a way to see the amazing niches that people are already working on. You can then filter these niches as per your interest or requirements, and then finalize the one that seems most profitable to you.
Sounds too good to be true?
Luckily there is more than one way to do just that. These methods not only help us to save our time in guessing around but also helps us in finding a niche that is already working for someone.
And if it's working for someone, then there is a good chance that you can make it work for you as well.
1. Finding Existing Niches & Sites
Amazon gives you a short url functionality for affiliate urls. So basically when you select a product to promote, amazon offers you a short url for that product that you can use to link to it on your blog.
It's in the following format.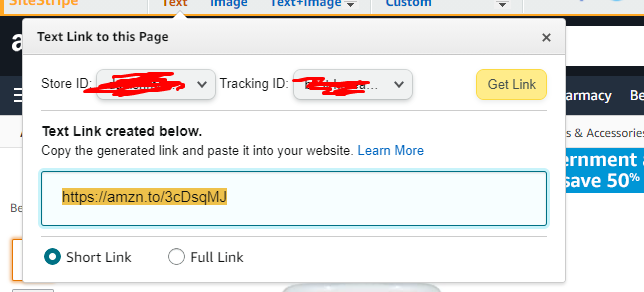 As good as it is for affiliate marketers, it can be reverse-engineered to find awesome niches. Let me show you how.
Go to Ahrefs Site Explorer and put the amzn.to in the bar and hit enter. And then go to Organic Keywords.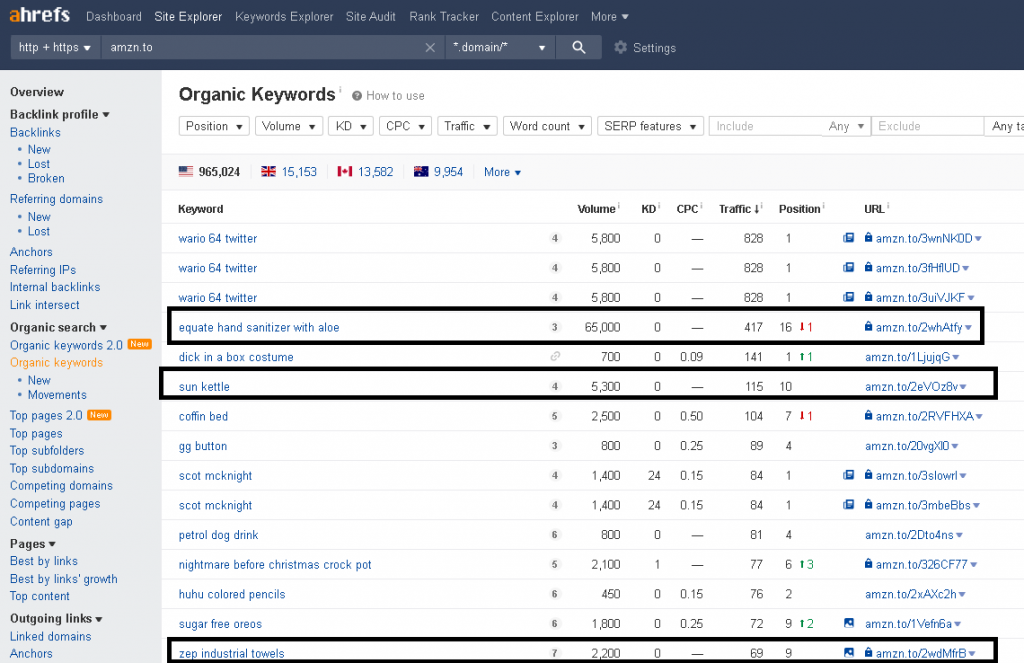 As you can see, it shows you products that affiliate marketers are already promoting. You can use filters and narrow down your research to get the easiest niche or product to promote.
We can make this method even more awesome.
Put amzn.to in Ahrefs Explorer and then go to "Referring Domains". You will see all the sites that are using this URL format to link to amazon. You can browse these websites for niche ideas. You can export the sites, filter out the big ones and then use the batch analysis tool to find out the mid-sized websites with decent traffic. They are the golden nuggets to either copy or get ideas for niches.
You can use different filters to shortlist the sites and then go on to combing niches.

2. Using Amazon Rankings against Itself
If you are an SEO you must have heard the theory that, if everything is done right, a niche-based domain can outrank a product detail page of any big eCommerce site such as Amazon itself.
It was so successful that Google has to push an algorithmic update just to minimize its effect.
Considering all this, say if you can find the products that are generating the most traffic on Amazon?
Let me make it better, What if you can find the keywords for the products that are generating the most traffic on Amazon AND they have low competition?
Ahrefs allows us to do that exactly.
You can find the products that are generating the most traffic for amazon.com and have low competition. Now we know that it's comparatively easy to outrank an Amazon product page with a well-optimized page of any domain.
All you need is actionable content that can be generated by using the same Amazon product page. The actionable content may include customer images, reviews, specs, pros & cons, etc. The content that converts a potential buyer into a buyer.
By using this method, you can find a couple of related products and convert them into a profitable niche or build a site based on the individual product. You can even use EMDS for that purpose which, by the way, still ranks better.
Go to Ahrefs Explorer and put amazon.com
Then go to organic keywords and add "/dp/" in the include filter.
You can add several filters like KD, Traffic, and Position, etc. to filter the data and find the easy products.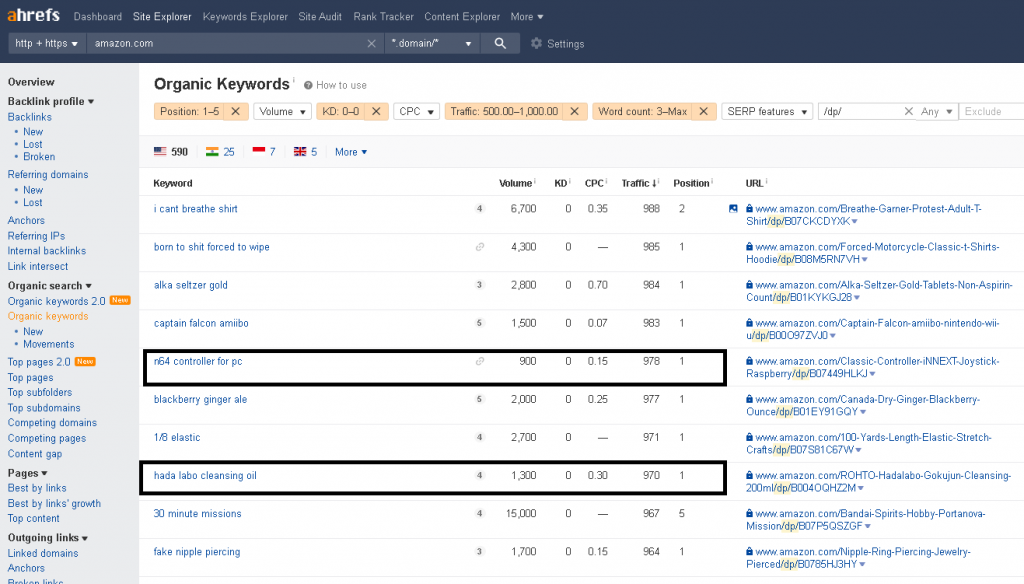 Bonus Tip: You can use SERP Features with "Include Target" to find all the featured snippets of Amazon and then try to get them for your site.
Method B. Leveraging Ahrefs Keyword Explorer Tool
Ahrefs keyword explorer is hands down the best keyword tool out there. The reason is the sheer size of Ahrefs data.
It gives you lots of actionable insight including a pretty good idea about the competition.
But it gives you more than that. It can give you a complete niche with already done keyword research for you.
1. Using Parent Topic Feature
An interesting feature of Ahref is keywords grouping by Parent Topic. With that feature, you get a readymade niche for your micro-niche or authority site.
Search a niche you are interested in like skincare.
In the left bar...Click on "By Parent Topic"
Here you have a pre-made niche for you that you can use for your next project.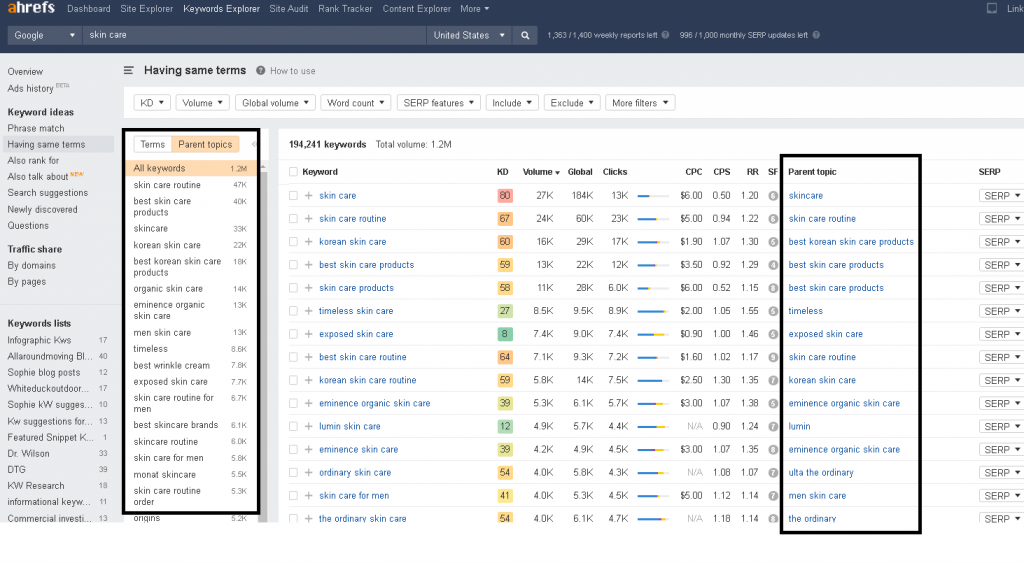 2. Using Top Searches Technique
Go to Keywords Explorer > select USA and Just hit enter. It will give you "Top Searches in United States"
Now add "best,2021" in the "include filter" or simply add "best".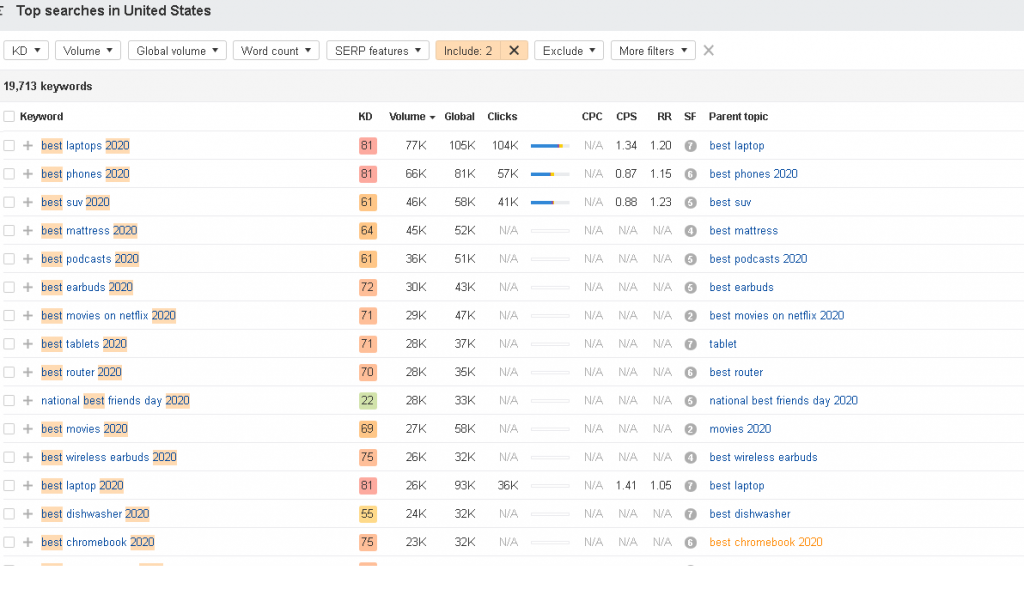 Again, you can use several filters to narrow down and find the best and easiest niche for your next affiliate website.
3. Using "Also Rank For" Feature
This is a very interesting feature in Ahrefs that most people simply ignore.
What it means is if you put the main keyword like "pet food", this tool shows all other keywords that same pages are ranking which are ranking for the term "pet food".
So if a website is ranking for pet food, it may also rank for "best dog grooming tips". This tool shows you all such keywords.
To use the tool as its best, you can use the filter that can refine your results and give you niche ideas that are easy to rank.
Go to Keyword Explorer > Add a broad keyword > Also Rank For
KD max 10 & Traffic min 250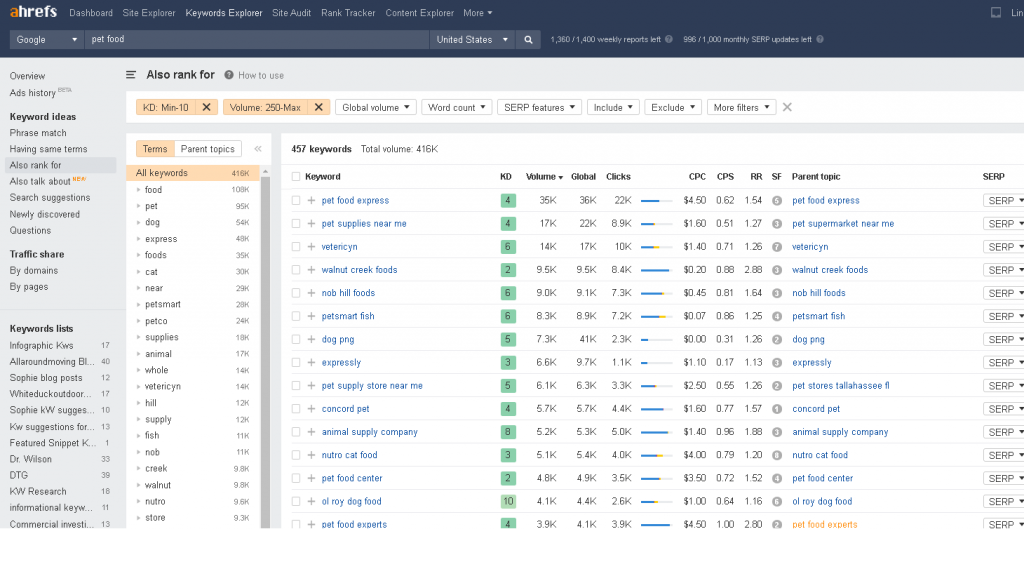 So there you have it. 2 methods to find your next perfect niche.
If you know of any other Ahrefs hack to find a niche, don't forget to mention in comments and share with us.
---
I am working in the search marketing field since 2006. My expertise includes SEO, SEM, Link Building, Product Development and critiquing local food. Currently, I am working as SEO Head at LinkBuildingHQ, the fastest-growing link building agency in the USA. You can connect with me on LinkedIn.