How to Sell 3D-Printed Products on Amazon – AmzChart
Have you ever considered 3D printing? You should probably sell your 3D-printed items on Amazon, right? That's exactly what many entrepreneurs are doing, so we will share best practices and techniques for creating 3D products that sell on Amazon and help you start a business.
One of the best ways to market and sell online is through Amazon since it reaches millions of customers. As long as you follow Amazon's policies during the product creation process, you can sell whatever product you want. The same is true for 3D-printed products. There seems to be an increase in demand for these products.
As the 3D printing sector turns out to be highly profitable, many sellers and entrepreneurs are entering the field. A 3D printed product can be made of any solid object, so you can make anything you can dream up. Therefore, why not create and sell 3D prints online via Amazon? Check Amazon's seasonal trends and product history to see if 3D printed products are profitable before you start.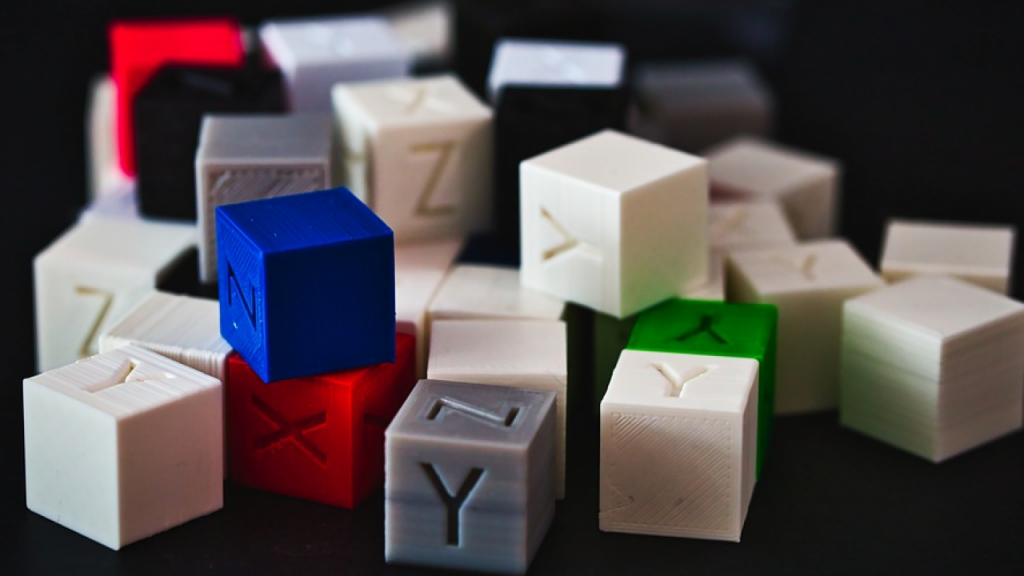 What are 3D Printed Products?
Here's what you need to know about 3D printing.
A 3D printer is a fabrication method that is used to make molds for making items or objects. It could also be described as the process of creating a three-dimensional object from a digital file. There are many types of items that can be made through 3D printing, including toys, tools, jewels, and clothing, as well as the printing of some body parts using advanced 3D printing technologies.
Three-dimensional printing is a process that starts from scratch and ends with a finished product. Typically, raw materials are put into the printer layer by layer until the end product is obtained.
The end product of 3D printing is a 3D-printed item. They are manufactured by additive manufacturing (also known as 3D printing). During the additive process, raw materials are layered on top of one another over time until the final product, the 3D printed item, is obtained.
A few decades ago, 3D printing was considered suitable for only making aesthetic or functional prototypes. But as of 2019, the accuracy, consistency, and range of materials to sell 3D prints have increased significantly. In order to sell 3D prints successfully, you must be able to make complex shapes or geometries that would have been impossible to fabricate by hand. There has been an increase in the demand for 3D printed products, including jewelry and any solid object you can imagine. Their durability and light weight make them a very popular choice.
Online stores for selling 3D-printed objects
Those who already sell products or have a store and are looking to scale up should consider these famous platforms.
Using Amazon to sell 3D prints
Would you like to sell 3D printed products? How about selling your new 3D-printed products on Amazon?
Your 3D-printed products must be marketed and sold after they have been created. As far as selling them, you should consider the Amazon platform as it can cut across many people worldwide with your product. It is true that Amazon has an incredible and unimaginable reach. It is still important to ensure that you make sales and profits before you begin selling on Amazon.
Creating a beautiful look and description for your Amazon product and opening your seller account is important before you begin. Additionally, you need to know which seller plan to use. Browse through other sellers' Amazon pages to get an idea of what you need to do.
After this, you will be able to access sellercentral.amazon.com. You will be guided through the rest of the registration process if you tap the "Register now" button. After that, you'll be at the Amazon sellers' platform.
The individual and professional seller plans are the two types of Amazon seller plans available. If you plan to sell more than 40 items in a month, you should always choose the Professional plan.
What are the advantages of selling 3D printed products on Amazon (vs. eBay or Etsy)?
As compared to other e-commerce platforms like eBay and Etsy, Amazon has several advantages.
Amazon has a variety of benefits:
· Amazon has a larger market share. Each month, Amazon receives more than 2 billion unique visitors and even more during the holiday season. At the moment, eBay and Etsy both only attract a little over 750,000 visitors each.
· On Amazon, you have fewer competitors. Amazon not only has more traffic than all of its competitors combined, but it also has fewer sellers. A total of 2.2 million sellers are currently active on Amazon, compared with 2.5 million actives on Etsy and 25 million actives on eBay.
· Sales can be predicted in advance. With Amazon.com's Best Sellers Rank (BSR), sales estimators such as AMZ CHART can determine both the average monthly sales and best competitors for a given niche product.
· You can fulfill orders through Amazon. In the Fulfillment by Amazon (FBA) program, Amazon offers fulfillment services. Fulfillment by Amazon sellers allows them to ship their inventory to Amazon fulfillment centers. When you sell a product, Amazon will pick, pack, and ship it on your behalf.
What are the steps for selling 3D products on Amazon?
In general, the process of selling your own designs and models on Amazon is similar to that of other business models, though with some differences.
To begin, here are some basic steps and resources you can use to assist you throughout the process.
Register yourself as a seller on Amazon
You must create an Amazon seller account before you can sell on Amazon. Fortunately, it's pretty straightforward. Click on 'Register now' at sellercentral.amazon.com, and you'll be all set. You can then proceed according to Amazon's instructions.
Product Research
The Amazon product research process involves analyzing all available data on the Amazon marketplace to identify the niches with the most popular products to generate high-volume sales. You need to sell your products with the highest profit ratio possible after acquiring them for the lowest price.
Using AmzChart's product research tools, explore what kind of product might sell well on Amazon. Using AmzChart, you can spot high-demand and low-competition products on Amazon based on historical and real-time sales and search trends.
Product Tracker lets you explore ideas and validate your own with AmzChart's Product Database and Opportunity Finder features.
Product criteria to consider:
▫ There should be 200-300 sales a month for the product. By creating a product that has a high demand, you are ensuring you are creating a product that is in demand.
▫ There are fewer than 500-1000 reviews/ratings combined among the top 10 competitors in the same niche (or fewer than 100 reviews per competitor). As soon as your product is live on Amazon, your product's reviews and ratings will provide an indication of how strong your competition will be.
▫ It is possible to sell the products for more than $20. In order to make money, you must ensure that you can earn more than Amazon charges, as well as the costs to print the model.
▫ Weight should not exceed one pound (0.45kg). You should also be able to put it in a shoebox. Your shipping costs will be lower if the item is smaller. You should especially take this into account if you use Amazon Fulfillment Amazon.
▫ Make sure the product does not have any patents. You do not want to start a business and be sued for intellectual property.
Select a fulfillment method
Amazon sellers can choose either FBA (Fulfillment by Amazon) or FBM (Fulfillment by Merchant) as their fulfillment method.
Then again, just like with a 3D printer, you'll also have to decide if you want forward stock, made-to-order, or a combination of both. Choosing between FBA and FBM will also affect your decision.
With made-to-order, all products need to be created only after someone orders them. If you choose this method, you can't use FBA and will have to ship the product yourself.
You can ship to Amazon and have them fulfill your orders if you create forward stock, which means that you print several copies of your models in advance. The risk is that you may end up with stock that doesn't sell.
Furthermore, if you combine both methods, you can have enough stock to fulfill all your FBA orders for the week, then print as you go. In case of shortages, you may also ship the items yourself.
Create a product listing
Creating a listing is crucial to running a 3D printing business on Amazon. The following are a few tips to optimize product listing listings, although other articles offer more detail:
You will need to do extensive keyword research for the title and description of your product listing. You can access real Amazon keyword data with AMZ CHART's Keyword Scout.
Your product should be photographed well. Images sell on Amazon, so make sure your models shine, especially in your main product image.
Get A+ content by registering your brand. A+ content will not only make your products look great, but it will also increase your chances of making a sale.
AmzChart: How does it help Amazon 3D sellers?
AmzChart gives Amazon sellers an easy way to find the most desirable low-competition products based upon metrics such as Amazon sales rank, Amazon BSR, price fluctuations, and reviews.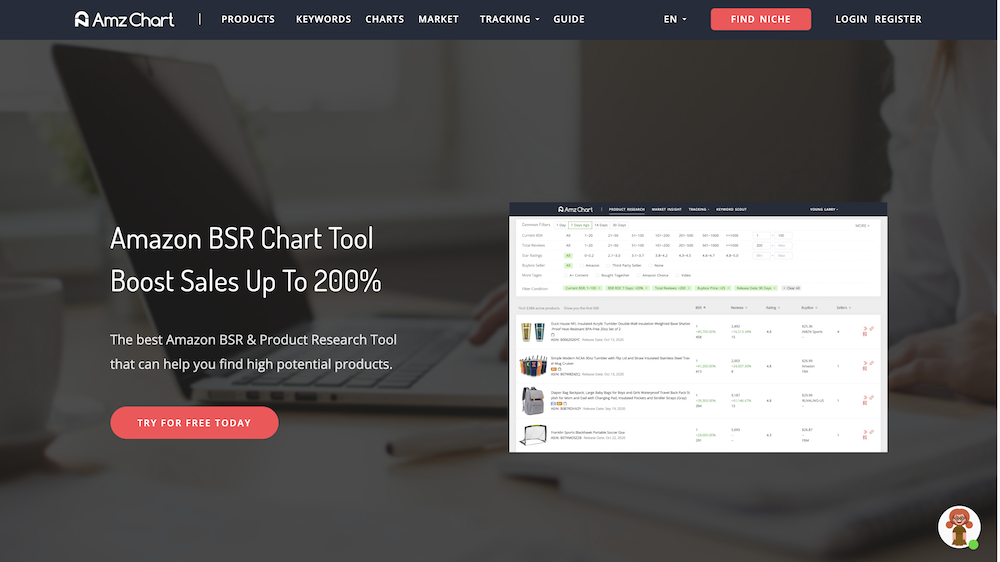 How it Works?
The best way to search Amazon is to select the US marketplace first (now only those available in the US are available), input keywords or ASINs in the search bar, then set filter criteria based on your preferences beneath the search bar, then click the "search" button. Afterward, you'll find a long list of results that meet your needs.
In the search results, you will find a long list of products with a selection of sorting options, such as ascending or descending order by BSR, reviews, rating, Buy Box price, or number of sellers. A link will appear when you click the product title, the "product details" icon, or both. If you click the "link" icon, it will take you to the Amazon product details page regarding the item.
Note: AmzChart provides five recommendations filters for beginners. With just one click, you can find some of the most recent products and options.
Analyzing product details:
Once a specific product has been selected in the product search page, it will link to the product details page to give more information about that product, such as category path, BSR fluctuation, reviews, and basic metrics.
Market Insight includes all Amazon categories except some specific ones such as ebooks, music, software, and movies. You can use this feature to gain a deeper understanding of your primary categories and subcategories and identify potential categories, thereby discovering the best path for your products. In addition, you can use the peak and low season of the product to plan your sales ahead.
Note: AmzChart displays live category data that is powered by our powerful database, which updates daily, and the updates are displayed on Market Insight in real time.
Hijacker Alerts monitors whether your products are being hijacked by other Amazon sellers. As soon as your listing is hijacked, or other actionable events occur, you will receive an instant email notification, allowing you to take action immediately.
Likewise, it can also be used by sellers who are hijacking others' listings, since they can see in real-time how their products are doing.
There are four key indicators in Product Tracking: number of sellers, sales, BSR, and the number of positive/negative reviews. Take note of your competitors' new strategies, take steps, and make smarter decisions.
Sellers on Amazon use long-tail keywords with a high search volume and low competition in order to attract more traffic. Using Keyword Scout, you can find out how popular a keyword is (search volume, purchase volume) and find some related long-tail Keywords.
Besides keyword research, Keyword Scout also offers reverse ASIN lookup, revealing competitors' strategies through keyword tracking.
Why should you consider the AmzChart?
AmzChart is the most comprehensive Amazon analytics tool and e-commerce intelligence database. Our mission is to help Amazon sellers reach their goals. Get all your questions answered by contacting us today.
Sell 3D-Printed Products on eBay
Selling your 3D printed items on eBay could be a good idea if your items are outstanding and unique. The reason for this is that eBay sells items based on an auction, and the highest bidder gets the item. On eBay, it is very easy to sell difficult-to-find 3D printed parts for equipment and machinery at a profit. When you have a model for a part, it means you are the only retailer with that particular part.
You will have the advantage of setting the price when your product becomes popular, especially if it is in demand. Isn't that interesting? As long as you are the leader in that particular industry, you need not worry about someone stealing your print. Furthermore, everyone prefers an original product over a replica or imitation.
It is possible to 3D print and improves an item that features a wide array of parts. Instead of spending money getting your vehicle or machine's chassis repaired, you might like to consider making your own 3D printed chassis. Other products that are great candidates for sale on eBay include 3D-printed electronics, clothing, and accessories.
There are many products that can be listed on eBay, provided they meet the basic requirements. A product can be sold in two ways. Either as a one-time purchase or an auction. It doesn't matter which one you choose because, in the end, you make your sales and make profits.
Signing up for an eBay account is easy. You won't spend much money, and the process is very straightforward.
Sell 3D-Printed Products on Etsy
Another great platform to sell 3D prints is Etsy. It is an excellent way to sell accessories and arts that are 3D printed. It is one of the best online platforms for selling handmade items, and it also allows you to sell 3D prints. The best way to start selling locally produced and handmade goods are on Etsy.
The prices are also very competitive. Your Etsy account is all you need, and you're on your way. In addition, you have to pay listing fees, payment processing fees, and transaction fees. However, the fees are very low.
Modeling a 3D printed item skillfully is a form of free and effective craft that is closely related to painting and sculpting. In its physical form, 3D modeling carries with it an unimaginable quality since it offers a direct representation of what one has imagined.
The majority of 3D printed products on Etsy are aesthetic and highly creative. The most sought-after 3D-printed products on Etsy include clothing, jewelry, and accessories. Furniture made from 3D printing is also sought after if its art is unique. Rings, skulls, dolls, and lamps are some of the other 3D printed items sold on Etsy.
On Etsy, you can market a variety of amazing 3D prints. Due to the fact that its technology is still early in its development, it does not always pose a problem for brands to establish themselves on this platform.
Let's launch!
You only need to turn your listing on when you've got all your ducks in a row. For more exposure to your products or models, you can even try Amazon PPC ads.
Note: Looking to sell products on Amazon using 3D printing? Check out AmzChart and learn how we can help you get started.
Finally, let me say this:
When done correctly, 3D printing can be a very profitable business. The popularity of 3D printed products is increasing as well. Produce your own and sell them on Amazon, eBay, or Etsy platforms, keeping in mind that printed products tend to perform better on each platform. It is the best method to sell 3D prints online.