Amazon Individual VS Professional Selling Plans-AmzChart
When starting an Amazon FBA business for the first time, one of the first big decisions you need to make is the type of seller plan you will choose to use. However, since you are new to the FBA business, you may not know how to decide. So this blog will take you through some cost-benefit analysis so that you can decide which account to use from the beginning.
What is Amazon Individual Seller Account?
The Personal Selling Plan is for sellers who do not need to use inventory tools and reports for bulk sales. Under the Personal Selling Plan, you do not pay a monthly subscription fee. You will pay a per-item fee in addition to the applicable fees.
For people who just want to sell a few items on Amazon or just "try it out", a personal seller account is a good choice. However, it is important to note that you do have to pay an additional $0.99 per item for each item sold. Therefore, we recommend that if you plan to sell more than 40 items per month, it is best to sign up for a Pro Seller account.
In addition to the fees to be paid, there are a number of other important factors to consider before signing up for a single seller account:
1.You cannot use third-party services such as Inventory Lab, Scoutify or Repricers
2.You can't apply to sell in restricted categories on Amazon
3.You don't qualify for a purchase box (which is where most sales occur) - the caveat here is that if you use FBA, you will still get a purchase box!
What is Amazon Professional Seller Account?
Under the Professional Selling Plan, you must pay a non-refundable monthly subscription fee regardless of any item you list or sell. When an item is sold, you do not pay a per-item fee. All other fees are charged on a case-by-case basis. Professional Sales Plan gives you access to inventory tools to upload batch files and manage orders with synopses and reports. These tools are beneficial for most medium-sized businesses.
We think it is best for all new sellers to sign up for a Pro seller account. This is because when you take the steps to get a Pro account, you will take the business more seriously and try to reach the limit of 40 items sold per month. The cost of having a Pro Seller account is $39.99 per month, which is charged at the time of creating a Pro account.
The main advantages of having a Pro Seller account are:
1.You can use a spreadsheet to upload multiple items at once through Seller Central
2.You can use third party services such as Inventory Lab, Scoutify and Repricers
3.You have access to additional seller reports
4.You are eligible to use Buy Boxes (this is where most sales occur)
5.You can request a restricted sale
6.You can create new product listing pages
7.You can upgrade your account at any time that it must be remembered always.
The Differences Between The Two Accounts
The main difference between an individual Amazon seller account and a professional seller account is your projected sales. Typically, a single Amazon seller account is for sellers who are likely to sell 40 (or fewer) products per month, while a Pro Amazon seller account is for sellers who plan to sell more than 40 items per month.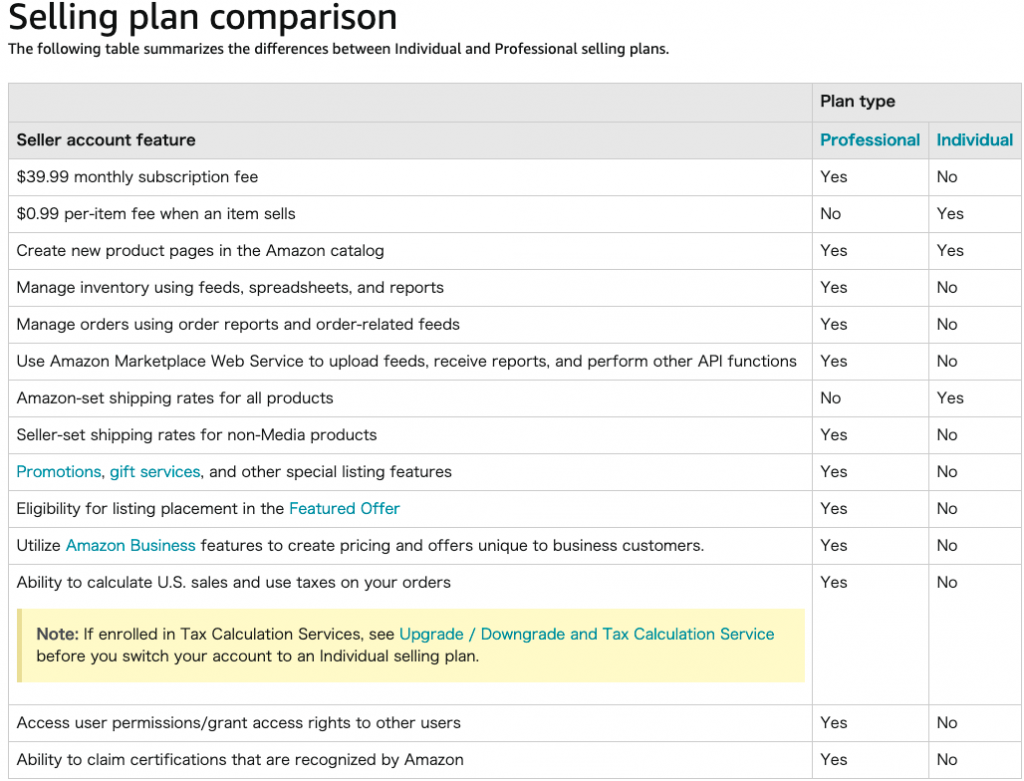 There are some other important differences as follows:
Fees
Personal accounts are free to sign up for, but there is a $0.99 per item fee. The Pro account has a monthly fee of $39.99, but no per item fee. So, we can already say that for people who sell more than 40 items per month, a Professional account is the better choice for you can save money.
Buy Box Eligibility
Only Amazon Professional sellers are eligible to display their items in the Buy Box. The Buy Box is a curated list of sellers on a listing within Amazon. If the item you are selling is not in the Buy Box, you will appear as one of the sellers below the Buy Box or in the listings that show "Used & New". Most buyers buy items directly from the buy box without looking anywhere else, and many buyers don't even realize that choosing another seller is an option.
Sales Tax Collection
Only professional seller accounts can charge sales tax on items sold. If you want to collect sales tax, you will need a professional seller account.
Category Approval
Amazon requires a higher level of approval to sell items in certain categories on the platform, and only Pro accounts are eligible to request that approval. Examples of these categories are cars, jewelry, watches, sports collectibles, videos, DVDs and Blu-rays, collectible coins, etc.
Bulk Listing
With a personal account, each product you list must be done individually. A-Pro account unlocks the ability to upload products in bulk via a spreadsheet, which can save a lot of time once you have a large number of products in your inventory.
Data Feed and Third-Party Tools
Use product data feeds and the ability to grant access to other users. These features are only available in the Pro Sales program. If you want to use third-party applications and tools, a Pro Seller account is required.
So you can directly ask yourself these three questions to make your choice finally:
No.1 What sales volume do you plan to have?
If you plan to sell more than 40 units in a month, then a "Professional Seller Central Account" is the best option.
No.2 What type of products do you plan to sell?
With the Personal Seller Central Account program, you can't create new listings on Amazon, which means you can only sell products that are already in the Amazon marketplace. This may be a viable option if you are suspected of retail arbitrage, but what if you plan to launch your own private label products? In this case, you will need to use the Pro Seller Central Account program from day one in order to be able to create listings for your products.
No.3 What kind of features and services do you want to have?
Not only does a Pro account allow you to sell a larger number of products at a more economical price and allow you to create new listings on Amazon, but a Pro account gives you access to more features, services, and tools to help you succeed in your Amazon business.
Whether you choose Amazon Individual or Professional Selling Plans, AmzChart can help you succeed in the Amazon business. It is one of the best Amazon BSR & Product Research Tool that can help you find high potential products. I believe you should already have your answer! Good luck with your Amazon business!